Filthy Nairobi fast becoming an eyesore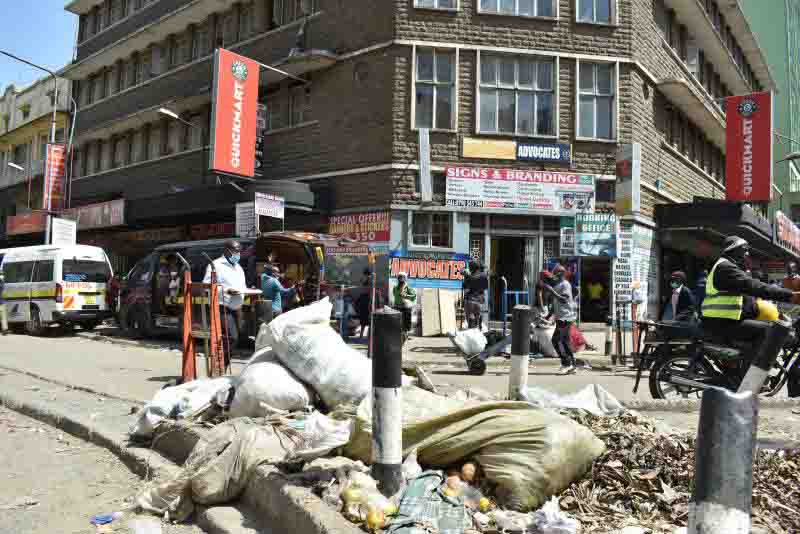 The city centre is fast becoming an eyesore due to piling trash.
Litter bins that were strategically placed are now missing and the few available ones are far between. Even for the few ones available, some are faulty.
For instance, between Aga-Khan Walk and Moi Avenue, city dwellers have turned the concrete flower pots into garbage bins.
However, a senior official in charge of solid waste management at City Hall told The Standard that there has been friction between road and environment dockets because some litter bins were removed during re-carpeting and fixing of the walkways.
"But there's an ongoing design of new litter bins at one of our workshops to add more bins in town. We are hoping they will be ready soon.
"We have received several complaints and concerns from members of the public about the same," said the officer.
He said they have partnered with private companies to provide modern bins that will allow for waste separation for easier sorting and collecting.
Some streets such as Mfangano Lane and Dubois Street have been turned into dumpsites. Several people found dumping waste have been arrested.
"Every day, about 10 people are arraigned for the offence and it will continue because we must bring sanity by all means. Offices have their own arrangement of ensuring that their wastes are properly carted out of town," said the officer.
In June, Nairobi Metropolitan Services (NMS), in conjunction with the Ministry of Environment, launched a campaign aimed at reducing waste dumping in the city.
Kijabe Street has no single litter bin while Kirinyaga Road is the most littered street.
NMS boss General Mohammed Badi earlier said the county was in the process of constructing material recovery centres in all 17 city sub-counties for the collection of segregated waste.