Mbagathi Way finally renamed Raila Odinga Way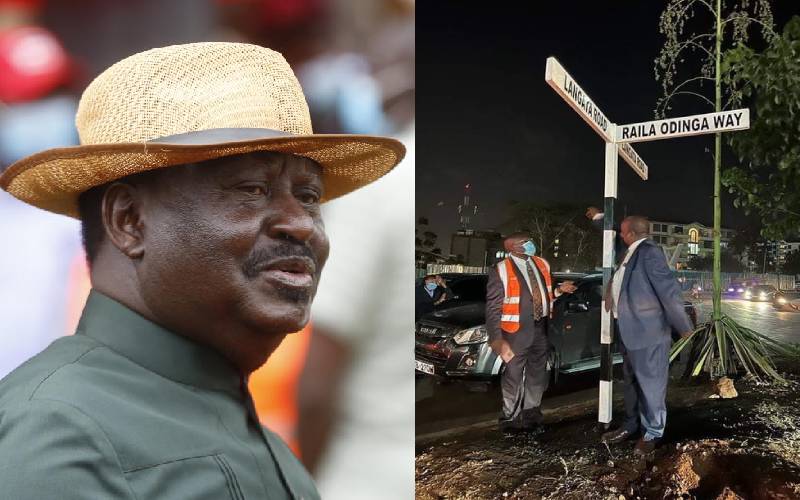 ODM leader Raila Odinga has been honoured after the Nairobi County government renamed Mbagathi Way after him.
The renaming comes after the County Assembly in early October approved a motion to rename the road after the former Prime Minister.
During the debate, Makongeni MCA Peter Imwatok said Raila deserved the honour after fighting the country's democratic and economic development.
He said deserving leaders should be recognised while they are alive, not when they die.
"He fought for greater democratic space, good governance, rule of law and development of infrastructure, including detention without trial for 10 years," said Imwatok who moved the motion.
Addressing the Press after the House session, he promised to initiate talks with the executive to ensure the road was renamed.
Nominated MCA Mary Arivisa also proposed that other public institutions along Mbagathi Way be renamed after the ODM leader.
"We had written to the Ministry of Education to rename Mbagathi Primary School to Raila Odinga Primary School, but it was a challenge since it was named after the road. Now that the name of the road will be changed, it shouldn't be a problem," she said.
Raila in August 2005 commissioned the construction of the road using concrete and cement.
Hailed by proponents as cost-effective in the long run, concrete roads are 40 to 50 per cent more expensive to construct compared to traditional bitumen roads but last for 40-50 years with minimum maintenance.
Unlike the reactions that met the renaming of a city road after COTU boss Francis Atwoli, Kenyans online said the ODM leader deserved even more.
It is the fourth time that a road has been renamed after a public figure this year.
Other roads that have been renamed are Accra road after the late Kenneth Matiba in March, Eastleigh First Avenue after the late Garissa Senator Yusuf Haji, Kapiti Crescent road in South B after Joe Kadenge and Dik Dik Road renamed after Atwoli.