Mombasa Road sections under construction to be opened to ease traffic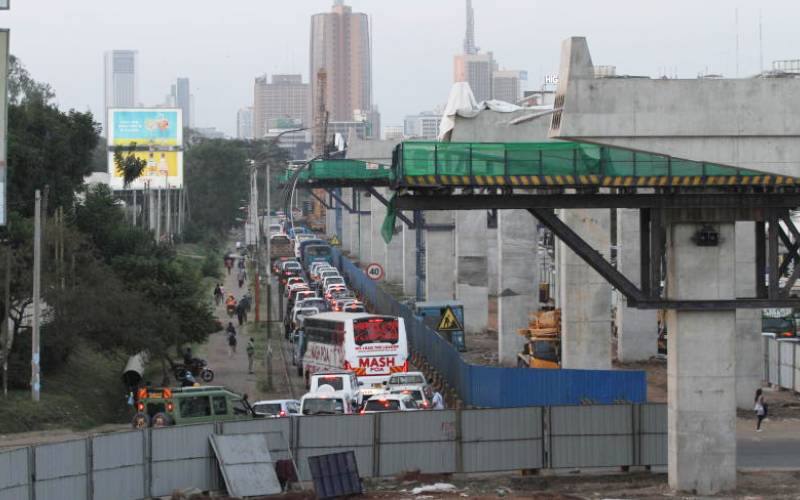 A multi-agency team has been set up to guide traffic control interventions on Mombasa Road sections under construction.
The Kenya National Highways Authority says the intervention will include ensuring the sites have adequate and well-signposted lanes, rapid intervention in case of accidents, and well-defined U-turn points.
This weekend, major works have been ongoing to manage the flow of traffic concentrated along the JKIA-Mlolongo section, which was earlier identified as one where motorists experienced extreme traffic congestion.
The projected opening date for the JKIA-Mlolongo section is September 10, KeNHA ag director-general Eng David Muchilwa said.
The Nairobi Expressway begins at Mlolongo, connects Jomo Kenyatta International Airport to the CBD, and then terminates at James Gichuru in Westlands.
Motorists are urged to avoid driving on the construction site and follow the designated diversion to avoid raising dust.
The Westlands-James Gichuru section will be opened on September 30, followed by the Haile Selassie-UoN Roundabout that is projected to be opened on October 15.
Since the construction of the 27.1-kilometre Nairobi Express Way began in October 2019, motorists have been experiencing choking gridlock on the route, as the number of lanes on both sides of traffic has been significantly reduced.
The Sh59 billion project is scheduled for completion in June 2022.
KeNHA on August 25 said the highway is 57 per cent complete, with the heavy works having been accomplished.
"Between now and December 2021, we are likely to see all the heavy works involving deep excavation, diversions completed," KeNHA chairman Wangai Ndirangu said in the past.
"For the period between January 2022 and June 2022, we will proceed to install the infrastructure that will allow us to operate the road furniture, marking, and the tolling booths."