Ngatia takes the stand and clears 'Uhuru lawyer' tag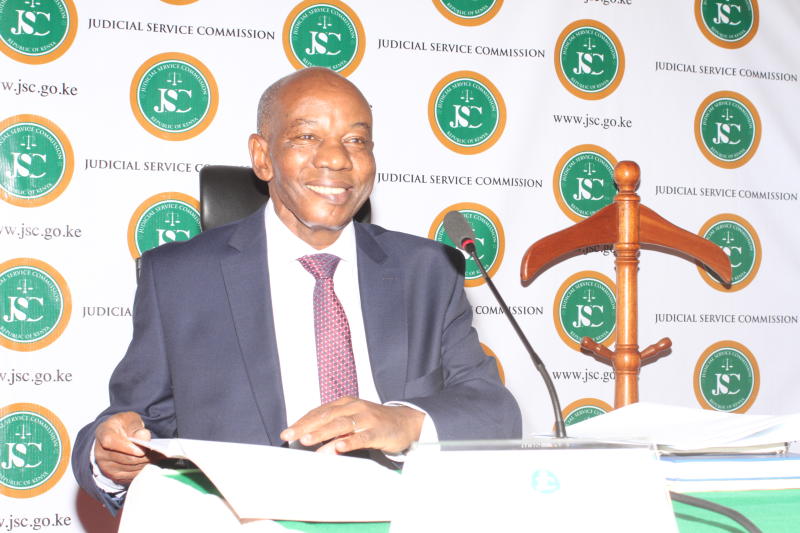 Senior Counsel Fred Ngatia yesterday sought to clear the perception that he was close to President Uhuru Kenyatta as he made his case to be the next Chief Justice.
Ngatia was hard-pressed to explain how the tag of being "the president's lawyer" and the perception that he was close to people in power would affect his job as CJ.
He represented President Kenyatta in both the 2013 and 2017 presidential election petitions.
The senior counsel told the Judicial Service Commission (JSC) that he was instructed to represent the president just like any other lawyer would get a job to represent a client. He said his assignment ended after the election petitions were concluded.
"I was appointed to lead a team of other lawyers and as soon as the cases were over, the relationship ended. That is why I have never been given any senior State appointment. People should judge me based on my competence and not as the president's lawyer," he said.
Ngatia said he represented the president just like any other person in need of legal representation to defend his election. He said it was an honour for him that he was chosen to lead the legal team and he did his work diligently just like he defends any other Kenyan who seeks his legal representation.
He said after acting for the president, he had handled other cases against the government, which shows he was non-partisan, with no political affiliation and that he would divorce all his private practice should he become the CJ.
Ngatia also denied claims he was the preferred candidate, saying he had no association with any political group and his quest to succeed Justice David Maraga was a call to serve Kenyans irrespective of their status.
Take a quick survey and help us improve our website!
Take a survey
"I do not think any well-informed person will see me as an extension of the presidency because I am not. It is about my fidelity to the law and the work I do. I am not a political project of any person," he said.
?
Ngatia told the JSC panel that his vision for the Judiciary, if given the job, would be to enhance service delivery, clear case backlogs, promote judicial independence and accountability, restore public confidence in the Judiciary and enhance working conditions for judicial staff.
He said he would bring a culture of hard work and perseverance and that his first statement to Kenyans will not be alarmist to ask them to have faith in his leadership, which will not be a one-man show but a collective responsibility with all players in the justice sector.
"In my first 100 days in office, I will have a blueprint on expeditious delivery of justice, with key pillars of what we want to achieve. My strategy will be all hands on deck and have all players in the justice sector as my Cabinet to ensure we deliver on our mandate," he said.
Regarding the contentious appointment of 40 judges, Ngatia said he will initiate dialogue not only with the president, but also leaders of the other arms of the government without putting any condition on what must be done.
On whether the CJ should come from within or outside the Judiciary, Ngatia said such debate should not matter so long as the right person with experience and competence was selected to head the institution.
"It is the same thing with the question of having a woman CJ. I cannot discriminate on the gender because the position is about meritocracy and someone with the right experience to do the job," he said.
Asked how he will interact with the youth on social media, Ngatia said although he was not on social media, he had no problem joining to engage the young people in constructive discussion.
He told the JSC that among his major achievements were his role in helping to end the boundary dispute between Kenya and Sudan, and heading a team that brought an end to the students unrest at the University of Nairobi.
In office illegally
Landmark ruling leaves officeholders in limbo, in a case brought to court by activist Okiya Omtata