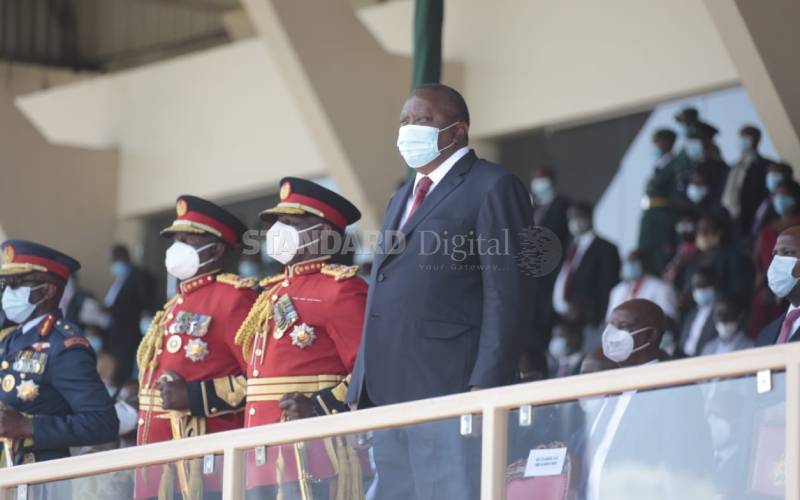 President Uhuru Kenyatta on Saturday led Kenyans in marking the 57th Jamhuri Day at the Nyayo Stadium.
As would be expected, the president sought to market the Building Bridges Initiative, saying the constitution is meant to serve Kenya and not the other way round.
He said constitutional change is inevitable at appointed intervals and that it is up to Kenyans to discern the moments that call for change.
At the same time, Deputy President William Ruto said there is a need for the national government to check its priorities.
He said the coronavirus pandemic has created unprecedented challenges that call for unity in planning.
Ruto cited the economy, health and education dockets as areas hardest hit by the pandemic. On January 4, about 14 million children will resume school while healthworkers are on strike in the middle of a pandemic, matters Dr Ruto said needed attention.
He called on the president to offer leadership during such "difficult times" in combating Covid as our forefathers confronted colonialists.
But according to Uhuru, time is ripe for constitutional reform. He said, "If change is indeed inevitable at appointed intervals, how shall we discern the moments that call for change?"
Using history as our compass, the president added that the need for law changes is informed by the national 'instability' experienced every five years after an election.
"This is a sign that the nation is on the edge of a new constitutional frontier."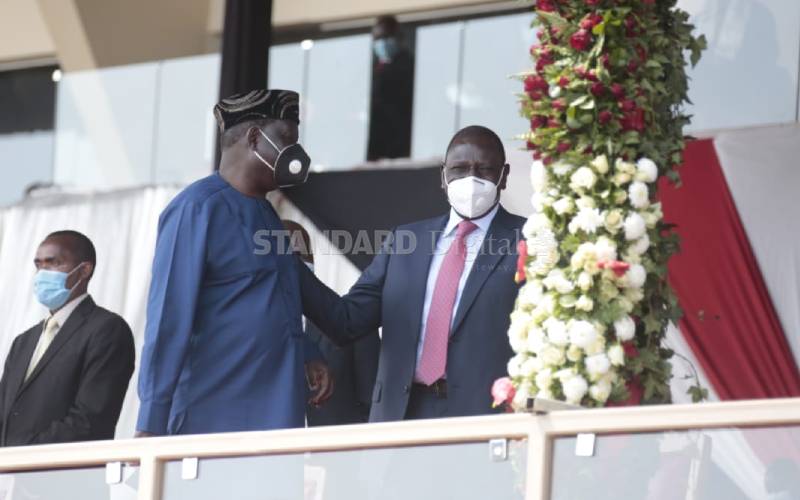 According to Uhuru, Kenyans should not "imprison ourselves with models that are not working".
Quarters opposed to the BBI and law changes have intimated that no constitution is perfect and that the 2010 document is efficient enough for Kenya.
To which Uhuru now says when we adopted the 2010 Constitution we were driven by fear.
"Our national spirit had been wounded and we were afraid of repeating the 2007 post-election violence."
Increasing positions
Some of the BBI proposals include the spirit of inclusion, where Uhuru says it does not augur well for Kenya to have two occupants at the apex of the Executive in an ethnically diverse nation.
He said such a situation creates an environment of 'political exclusion' resulting in the cyclic violence after every poll.
Uhuru said increasing the positions at the apex of the Executive from two to five by introducing a Prime Minister and two Deputies, more communities will be accommodated.
He added that it was also part of the Kofi Annan Consensus of February 2008 following the post-election violence.
"If it worked then, it means there was something right about it."
BBI also proposes the reintroduction of Leader of Official Opposition.
The third element of co-creation in the BBI calls for a 50:50 'shareholding' of Senate by men and women.
"If 50 per cent of Senate will be made of women, their contribution to a robust devolved system will be felt. This means that they will control half the Senate decisions."