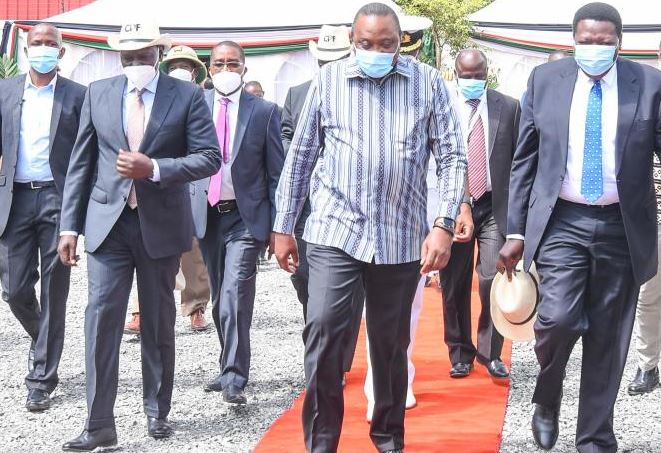 President Kenyatta (centre) thanked development partners who have collaborated with Kenya during the Covid-19 period but asked them to stop interfering and trying to direct his administration on which way it should go.
Sh132 billion is needed to reboot the economy of county governments following the devastating effects of Covid-19 pandemic.
Council of Governors (CoG) chair Wycliffe Oparanya said the money will be sourced from county government budgets, the national government and development partners.
The recovery exercise will be spread across three financial years to end in 2022/2023.
Read More
According to the County Social Economic Re-Engineering Recovery Strategy report unveiled yesterday, counties will be leveraging on five pillars to reboot the economy.
These are the private sector; policy, legislatives and institutional reforms; disaster preparedness of county governments; information communication technology; and human resource development.
These pillars are informed by the key sectors that drive economies in the counties – manufacturing, agriculture, water and sanitation, urban development and housing, transport, tourism, health, education, social protection, gender and youth, environment and national resources.
"We are optimistic that we will revive a considerable number of businesses that collapsed during the pandemic," said Oparanya during the launch of the report in the presence of President Uhuru Kenyatta and Deputy President William Ruto.
Under the private sector pillar, counties will focus on micro-enterprises and small farm holders. This will be done by enhancing access to credit and encouraging formalisation.
Counties will also enhance connectivity of businesses to ICT under the ICT pillar. The human resource pillar will address the health and education risks, noting that the pandemic has reduced working hours and slowed productivity.
Under policy reforms, the counties will seek to harmonise and rationalise various laws on agriculture to streamline operations between counties and the national government while disaster preparedness will focus on having the devolved units ready in case of another pandemic.
President Kenyatta said the recovery strategy could not have come at a better time, as models have shown the country's economy will grow by a paltry 0.6 per cent. The recovery report by counties notes that in the first quarter of 2020, economic performance in most sectors slowed down compared to the corresponding quarter of 2019, with real Gross Domestic Product growing by 4.9 per cent compared to 5.5 per cent growth last year.
Kenyatta also hit out at development partners, telling them to keep off Kenya's internal affairs.
"I wish to thank our development partners who have collaborated with us during this (Covid-19) period but also before and whom we look forward to partnering with in the future. We truly appreciate all our development partners who have worked closely with us," he said.
"Please, I ask you to refrain from interfering and trying to direct us on which way we should go."
Ruto said the strategy is well-informed.
"There is a clear road map provided to make sure we do not duplicate but synergise," he said.