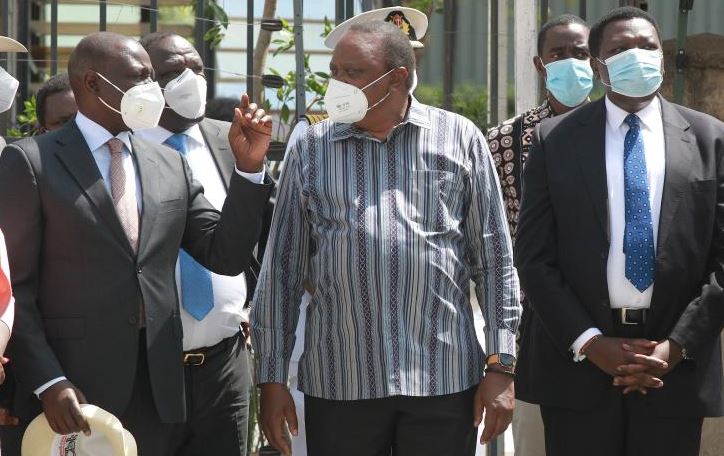 President Uhuru Kenyatta has hit out at development partners telling them to keep off Kenya's affairs.
The President said the country does not need external forces to meddle in its affairs as much as they contribute to the development of the nation.
President Uhuru, who was speaking during the launch of the County Covid-19 Social Economic Re-Engineering Recovery Strategy and groundbreaking of G47 Ugatuzi Tower, said he will not allow the international community to arm-twist the country in exchange for the support they provide.
The President was accompanied by his deputy William Ruto in the event graced by international partners among them the United Kingdom and United Nations. A section of governors led by Council of Governors chair Wycliffe Oparanya, and Devolution Cabinet Secretary Eugene Wamalwa were also in attendance.
While the President did not finger any development partner in particular, he was very categorical that their views on what Kenya should do or not do are not needed.
Read More
"I wish to thank our development partners who have collaborated with us during this(Covid-19) period but also before and who will look forward to partnering with in the future. We truly appreciate all our development partners who have worked closely with us," he said.
President Uhuru however said as much as he appreciates the support and collaboration, the partners have to remember that Kenya has its owners.
"And its owners are the 50 million Kenyans," he said. "Please I ask you to refrain from interfering and trying to direct us in which way we should go."
The President said Kenyans are clear on where they want to go and the best development partners should do is support but not interfere because it will not be welcome for Kenyans to be told which direction the country should go.
"Tafadhali, nawaomba kwa heshima. Tuheshimu ndio tuwaheshimu. Ama namna gani? (Please, I plead with you with respect. Respect us and we will respect you," he said. "Even them (development partners) have problems in their own countries so they have no business to come and lecture us."
He added: "But I say that in good faith, very good faith…I will not allow that; we shall not allow that to happen."
It is not clear what informed the President's sentiments which came at the tail end of his speech, however the International Monetary Fund, Moody's and World Bank have been vocal on Kenya's fiscal situation and issued warnings on its rising debt.