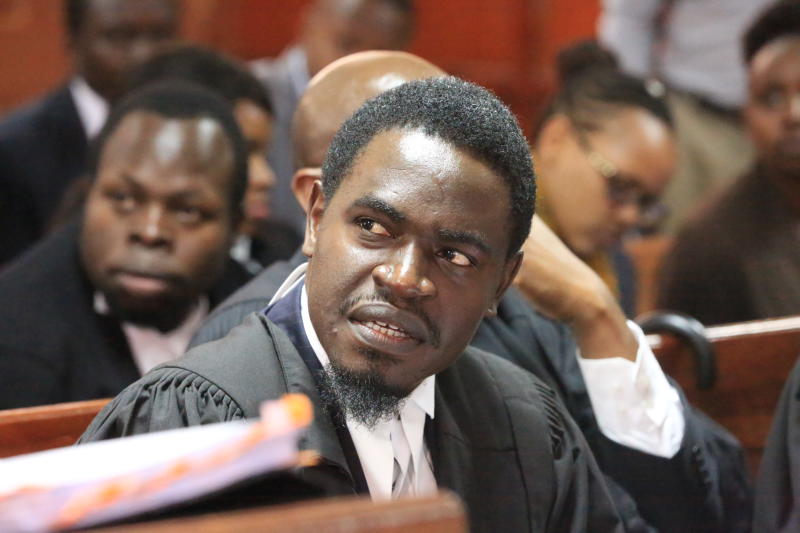 A lawyer has moved a motion seeking to topple Nelson Havi as the President of Law Society of Kenya's (LSK).

Charles Midenga, an LSK member, wants the motion which accuses the LSK president of gross misconduct and violation of the constitution to be heard during a special general meeting which is slotted for December 5.

At the top of the list of accusations facing Havi is what Midenga calls "belittling the powers of the council" by failing to uphold their decisions to reinstate Mercy Kalondu Wambua as the Chief Executive Officer (CEO) of LSK.

In mid-September, the council suspended Ms Kalondu over gross misconduct and later reinstated her through a nine-member majority after failing to substantiate the accusation lodged against her.

Since then, Mr Havi has continued disapproving the legitimacy of Ms Kalondu's position evident in a notice he shared on his Twitter handle on November 10, a month after she was reinstated.

"Mercy Wambua Kalondu ceased being Secretary and Chief Executive Officer of the Law Society of Kenya effective 19.10.2020. She is not authorized to transact, communicate and deal in any way whatsoever in the name of and on behalf of LSK," read the notice.

Mr Havi is also accused of allegedly conspiring with the Vice President of Society Caroline Kamende Daudi to frustrate the efforts of the secretariat in executing its duties. Midenga has accused Ms Kamende who is one of the three required signatories of the society's account of crippling their financial needs.

"The council members are currently meeting and discharging their mandate to the society from their own pockets due to unpaid council expenses," reads the motions.

Havi is also accused of micromanaging the secretariat by contravening procurement policies set in the LKS act and appointing an official without following the laid down procedures. The motion asserts that Mr Havi Imposed Mark Obar as the LSK ICT consultant and putting Proscene Company as the LSK audiovisual Service; all of which allegedly didn't follow due process.

The LSK president is also accused of issuing unilateral directions to the secretariat such as "illegal termination of services of staff members"; roles only executed by the chairperson.

Other accusations include the LSK president airing his views through his personal Twitter handle without distinction with that of LSK and ostensibly employing Ms Esther Ang'awa as his personal assistant and de facto chief of staff even though she was elected as an up-country representative.

"The President has continued to communicate using his personal Twitter account and purporting the same to be the official communication of the society thereby disparaging the legal profession," read part of the motion by Midenga.

Even though Mr Havi's antiques and moves especially those targeting the political class have created ripples in the national scene, internally, Lawyers like Midenga feel the "president has not acted in the best interest of LSK and the republic of Kenya in general".