Yet another attempt at city order amid doubts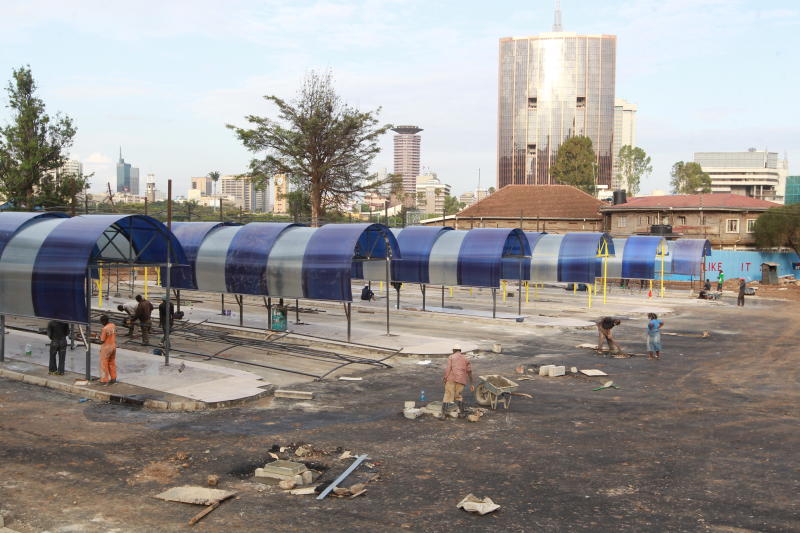 As the city clock ticks against old transport order, operators are slowly coming to terms with Nairobi Metropolitan Service (NMS) plan on new terminus.
Given the many previous attempts to knock off matatus from the city centre, many do not believe this will pay. But as they cross their fingers, praying for another cropper, the new bus termini are coming up fast at the various corners of the city.
It is a race against an old, confused order. At the corner of the Railways Club, the once green lawns have been swallowed by concrete as Green Park terminus to serve PSVs plying Ngong and Lang'ata roads takes shape.
The Green Park terminus is scheduled to be completed in about a week, according to NMS Transport Director Michael Ochieng.
Another terminus at the junction of Bunyala and Workshop Road is also in its final stages. It will serve PSVs from Mombasa Road (South B, South C, Industrial Area, Imara Daima, Athi River, Kitengela and Machakos).
Long-distance PSVs from Mt Kenya region and those entering from Thika Superhighway will terminate at the new Desai and Park Road termini where they will also pick and drop passengers.
There is another pick-up and drop-off point under construction at Westlands just near the Fig tree. There will also be Landhies Road terminus which will take care of the vehicles from Eastlands.
The Muthurwa terminus is expected to remain to serves PSVs from Jogoo and Lusaka roads.
"We are working together with PSV operators and consulting with them while constructing the termini. It is a plan which the PSV operators are participating in to ensure the it is well implemented and their concerns incorporated," Ochieng said on November 13.
But old habits die hard and Kenyans are a doubting lot. James Mongina, a matatu operator on Jogoo road to Kayole, is skeptical about the whole thing. He says only a quarter of the vehicles plying Jogoo and Lusaka road routes use the Muthurwa terminus, yet it is already overwhelmed.
"It will be almost impossible for Jogoo and Lusaka road matatus to stop at this point, the kind of traffic jam that will occur will create a ripple effect, blocking City Stadium round about, Lusaka road and other roads," said Mongina, adding that passengers coming to town from Donholm and its environs will alight at Hamza and trek.
Mongina said even if the kiosks at the terminus are removed, it will still be difficult for it to accommodate all the matatus.
"Let them try but I assure you it will be chaos on the first day. If at the moment, it takes me two hours to get into the terminus from City Stadium, what about when this plan takes effect?" he asked.
Fig Tree Terminus at Ngara will serve matatus from Waiyaki Way, Kipande and Limuru roads. Operators at this station similarly have doubts that this move by NMS will work.
According to Patrick Njuguna, a PSV operator using the Limuru Road route, part of the problem is caused by the Government itself since a majority of its services is centered around the CBD to Upper Hill.
"Everyone wants to get to town at some point of the day, whether with a matatu or a personal vehicle. If the services were scattered, then maybe CBD would not be as congested as they think," Njuguna said.
Njuguna said personal vehicles are the biggest cause of congestion in the CBD.
"We are now developing a mass transport system that is efficient, clean and appealing to the residents of Nairobi, to encourage them to leave their personal vehicles at home and use those matatus or the Bus Rapid Transport or the railway system," said Ochieng.
World over, he noted, big cities have a metro system linking planes to buses, to foot paths and cycle paths and Nairobi should not be an exception.
He said the fact that it was not properly planned before does not mean it stops.
"This should be more convincing that it will work in future because we have learned from the mistakes," Ochieng said.
This is not the first time there is an attempt to relocate PSVs from the CBD in a decongestion bid. In September 2017, Nairobi Governor Mike Sonko banned matatus from accessing the CBD.
Since then the ban has been suspended twice due to logistical issues as pointed out earlier by City Hall.
NMS Boss Maj Gen Mohamed Badi cited decongestion as one of his top priorities. The move by Badi follows the Kenya Railway Corporation's Commuter Rail Service launch by President Uhuru Kenyatta.
The Commuter Rail Service is expected to eventually link to the Bus Rapid Transport for efficiency.