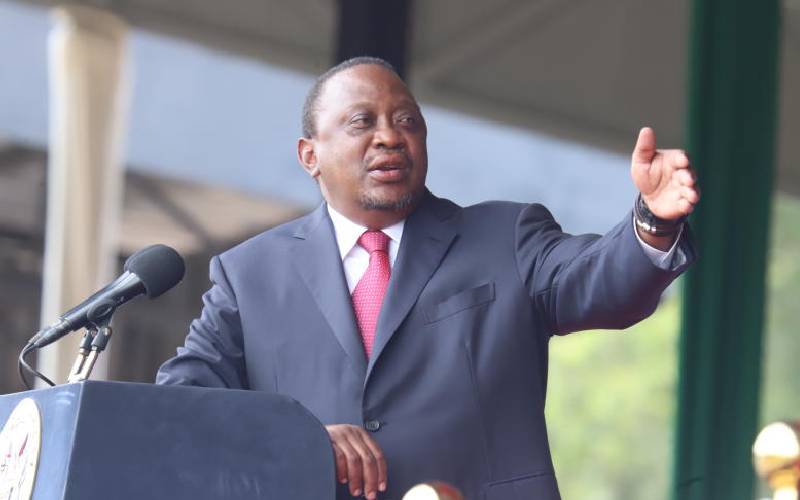 President Uhuru Kenyatta (pictured) has challenged the youth to make extra-ordinary steps and create more opportunities out of the little they are given.
In his Mashujaa Day address at Gusii Stadium in Kisii County yesterday, the Head of State said young men and women who became independence heroes made more opportunities out of the little that they were given.
"Instead of focusing on the hardships of building a new nation from the ground up, they focused on the possibilities. We must also celebrate today our young people. They are our heroes and yet we so often forget them," he said.
He added: "And if history is not just a path to the past but a trail into the future, then a spotlight must be placed on our young people this Mashujaa Day."
Read More
The president took the opportunity to remind the country that 'Makers of this Nation' were dominated by young people who worked closely with a few elderly statesmen.
"Did you know that the Independence Cabinet and the new administration were also dominated by young people?" he posed.
Further, President Kenyatta took the opportunity to remind the youth that young people who will embrace the positive and the possible will emerge as heroes and innovators.
"If our attention only focuses on the bad and the ugly, all energy will flow to the negative and we will become a nation of angry and disillusioned people. If you solve a problem, heroism and success will naturally follow you. And I have three recent examples to illustrate this here in Kenya," he added.
The challenge and message of hope to the youth comes against the backdrop of a series of transformative, problem-solving programmes and projects unveiled by the president and the Cabinet a week ago.
Search for solutions
The team of over 800 young men and women, drawn from across the republic, have undertaken seminal programmes that include the National Wide Airborne Geophysical Survey, the Geospatial Project, the Cyber Project, Drones and the National Security Industrial Project.
In his address yesterday, the president gave an example of young innovators who, at a cost of Sh4 billion, have sought to do mapping of national resources under the National Airborne Geophysical Survey Project.
"A private firm had quoted to do it at a cost of Sh30 billion, but our young people took it up. Currently, this project 70 percent complete," he added.
Further, he gave an example of two engineering students from Jomo Kenyatta University of Agriculture and Technology (JKUAT) who have created an automated weeding robot.
The two, Michael Mwaisakenyi and Ken Gicira, had their innovation emerge winner of the 2020 Imagine Cup, beating teams from across nine European, Middle Eastern and African countries.
Roy Allela, 25, holder of a Bachelor's degree in Microprocessor Technology and Instrumentation, from the University of Nairobi, created a pair of smart gloves that helped his six-year-old deaf niece communicate.
These gloves have flex sensors that help the deaf wearer, communicate and vocalise messages to a mobile phone through Bluetooth.
"It is clear that Kenya has a pool of talented and gifted young people. Where these transformative innovations came from, there are many more," he said.
The Head of State concluded by saying that our attention should be more focused on the search for solutions.