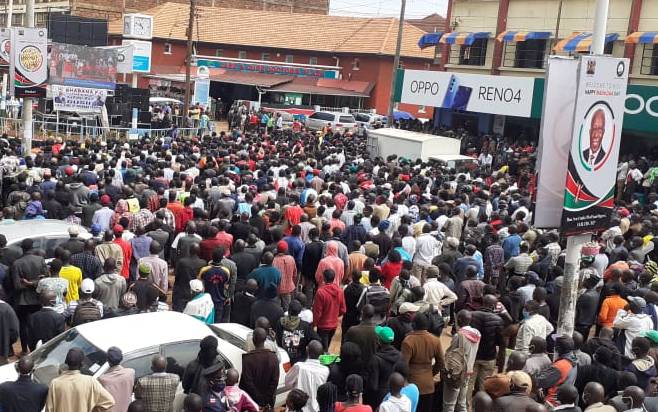 Thousands of South Nyanza residents thronged the streets of Kisii to watch the Mashujaa Day celebrations, even with the tough regulations of movement and strict measures to regulate the number of attendees at the Gusii Stadium.
All the streets of the Kisii town were full of people and movement along the narrow pavements of the main streets was a near-impossible venture. Enthusiastic residents perched themselves to witness the historical national event in the area.
Contingents of armed GSU, Kenya Police and plainclothes special forces and intelligence officers stood guard along the streets to ensure free movement of vehicles.
Read More
There was a near stampede at the Stadium junction when the surging members of the public pushed the security officers to the road as they sought to have a view of the President Uhuru Kenyatta's motorcade as he entered the stadium.
It forced the security agents to resist the pressure by clobbering the crowds to order. Outside the Stadium, there were about 10 giant screens that were strategically placed in town.
Huge numbers of people crowded at the giant screens to watch the event as it unfolded live from the Stadium. According to Nyanza Regional Coordinator Magu Mutindika, the Stadium was only scheduled to host between 3,000 and 4,000 people while another dorm tent that was pitched just adjacent to the stadium at the Kisii Sports Club hosted about 3,000 other Kenyans.
There was relative calm across the town and even at its outskirts a day after a former ODM leader was arrested and charged before a Kisii Court for planning to interrupt the Presidential event in Kisii. Plainclothes security agents were deployed in all social places and joints to guard against any possible interruptions.
There was relative tranquillity in the Town for the entire period the event went on at the Stadium with Kenyans who had arrived to follow the proceedings crowding giant screens that were placed at Capita Round About, Daraja Moja junction, Daraja Mbili Market and other strategic locations in the Town's periphery.