Family holds private ceremony for late Mzee Jomo Kenyatta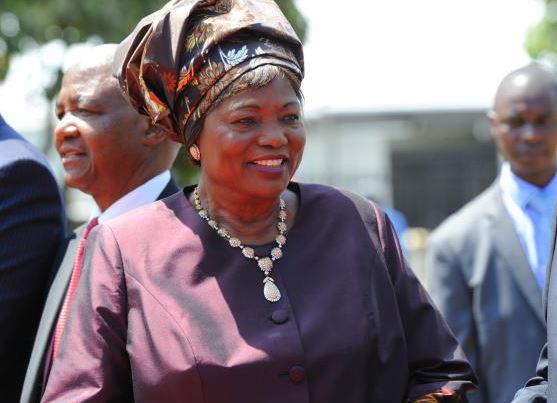 There were no bells tolling and the prayer sanctuary was virtually deserted for the first time in 42 years. And like a ship sailing away in a dark, misty night, August 22 passed away without any pomp at Nairobi's Holy Family Basilica on Saturday.
And in the nearby Parliament Buildings, the parking lot was almost empty...no wreaths or military pageantry.
Unlike in the last year when colourful and elaborate commemorations have been organised, there was no state function to mark the 42nd anniversary of the death of Kenya's founding President Mzee Jomo Kenyatta.
This year, in place of the grand nearly day-long ceremony, which also acts as a family get together of the Kenyatta clan led by the matriarch Mama Ngina Kenyatta (pictured) and her first son Uhuru Kenyatta, there was what some security officers described as a private ceremony.
At the Parliament Grounds, which is often the first spot for the celebrations which are usually officiated by the military with the Head of State and members of the Kenyatta family laying wreaths, the mausoleum was conspicuously thinly-peopled.
While a few police officers stood guard outside parliament, a handful of soldiers in ceremonial uniform could be seen moving around the grounds, in what a police officer told The Standard was preparation for the private ceremony.
During the last commemoration on August 22 last year, President Uhuru Kenyatta announced that the family had opted to discontinue the elaborate public commemoration of the event, in favour of a private event.
"As president, I have consulted the family of the late Jomo Kenyatta and we have agreed together that this is going to be the last celebration of Mzee in this manner," President Uhuru told a stunned congregation at the Holy Family Basilica in Nairobi, where the church ceremony accompanying the event has historically been held, often after laying of wreaths at parliament.
He also thanked the late president Daniel Moi and president Mwai Kibaki for commemorating the memorial each year without fail when they led the country.
Yesterday, the church held its events as usual, with a few believers coming in to pray. One of the preachers at the church told Standard that the family had not reached out this year to request for the ceremony to be held there.
"There is no function here today. The family would have informed us. They always tell us in advance so we prepare," said the preacher.
Mzee Kenyatta passed on on August 22, 1978, of a heart attack at the State House in Mombasa, after prolonged health problems, including a heart problem and a few minor strokes.