Kenya tourism industry loses almost Sh80 billion shillings in revenue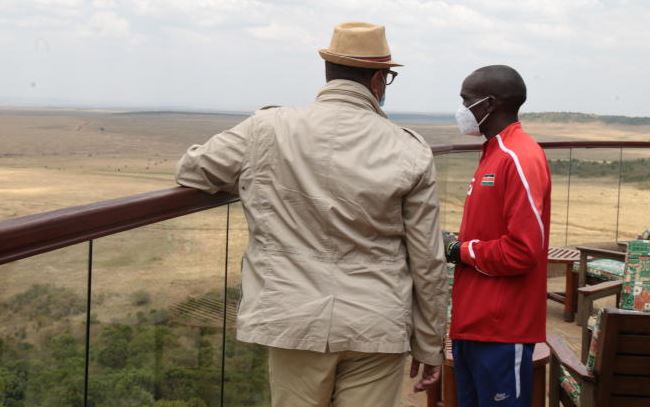 The tourism industry has lost Sh80 billion in revenue in the last five months due to the coronavirus pandemic, the government has revealed.
Tourism Minister Najib Balala (pictured left) said the sector, which has been severely affected by the coronavirus, is expected to recover fully in 2022.
"The sector generated Sh167 billion in the 2019-20 financial year. It is expected to earn at least Sh189 billion in the 2020-21 financial year," Balala said yesterday in the Masai Mara Game Reserve.
Balala who was accompanied by world marathon champion Eliud Kipchoge and Narok County Governor Samuel Tunai, also revealed that at least two million people have lost their jobs in the sector.
Sector target
"That's our target; unfortunately we lost Sh80 billion from February till June due to the pandemic. We have just opened up local tourism and now people are slowly appreciating it. I want to thank Kenyans for supporting the tourism economy that is the backbone of the economy," he said.
In a bid to add energy in the marketing of local tourism, the ministry, through the Kenya Tourism Board (KTB) has handed marathoner Eliud Kipchoge a six-month deal to be its brand ambassador.
Balala also revealed that motorists in parks have been offered a 50 per cent discount on parking fees.
"The pandemic has affected the tourism sector badly. It almost shut down. At the moment, we are trying to revive the industry through the domestic tourism strategy and that is why we are asking Kenyans to support this drive so that the economy can be revived and jobs can be created.
"I want to thank all those Kenyans who have heeded to that call," Balala said.
"We are using Eliud as Magical Kenya ambassador so that we can position Kenya better internationally. Sports tourism is also a good thing. We are encouraging investors in the industry to make their hotel facilities affordable for the Kenyan market."
Balala added that Kenya is open for business. "Let me make it very clear. All airlines and people from other countries are allowed to fly into Kenya. The only condition is that travelers will be required to go on quarantine."
Residents gain
Tunai also welcomed Kenyans and other visitors to the Masai Mara Game Reserve during this wildebeest migration period.
"The Narok County government is working closely with the community around the Masai Mara in sustaining the reserve. The community benefits from the proceeds of this park. As a matter of fact, 19 per cent of the parking fees charged here goes to the residents," Tunai said.