Policing goes digital with new-look Occurrence Book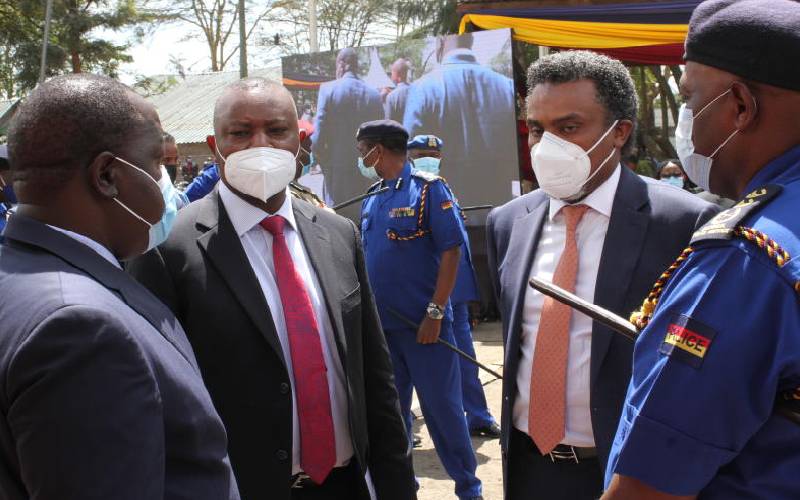 A new police digital Occurrence Book was launched yesterday in Nairobi.
Director of Public Prosecutions Noordin Haji and Director of Criminal Investigations George Kinoti put up a united front yesterday during the function presided over by Interior Cabinet Secretary Fred Matiang'i.
"We do not have to be seen together for people to know we are working together," said Mr Haji during the function held at Buru Buru Police Station and attended by Inspector General of Police Hillary Mutyambai.
Kinoti and Haji have been at loggerheads and their differences have even played out in public. Last Tuesday, Kinoti snubbed a high-level government function organised by the DPP to launch the new policy guidelines on prosecutions.
Haji praised the digitisation of the police OB and said it will make his work easy in the event that there was need to produce electronic evidence in court.
Kasarani and Buru Buru police stations are the first to fully automate their OBs.
The automation will be implemented in police stations across the country.
Under the digital platform, officers at the police station level will key in public complaints electronically and also issue OB reports electronically.
Police station commanders will be required to assign cases electronically. Station commanders will use this system to monitor cases and performance of their officers by simply logging in to the system.
The new system have a provision where police officers will take photos of suspects before they are booked into police cells.
This new feature is aimed at addressing cases where suspects claim to have been tortured or assaulted by the police.
It will now be mandatory for police officers to take suspects' photos before they go into the cells and also give a description of their state at the time of arrest.
The IG will be able to monitor which case has been reported, who the investigating officer is and the progress of the investigations.
The digital OB has also been customised to include details of police officers such as leave days and working shifts.
Details of officers on duty on a particular day and even those on leave will be captured in this database.
Access level
Deputy Inspector General Edward Mbugua, under whose command the regular police fall, will also have access to all matters relating to his officers but will not access matters related to the DCI and the AP.
Haji said the integration of the police OB to the NTSA, his newly created electronic case-management system and the electronic filing system by the judiciary will redefine policing in Kenya.
"It will provide a holistic approach to security in the country. The ODPP will work together in enhancing public confidence in access to justice".
Matiang'i said the automation of OB would bring to an end the culture of corruption.