I'm fine after surgery, Raila assures Kenyans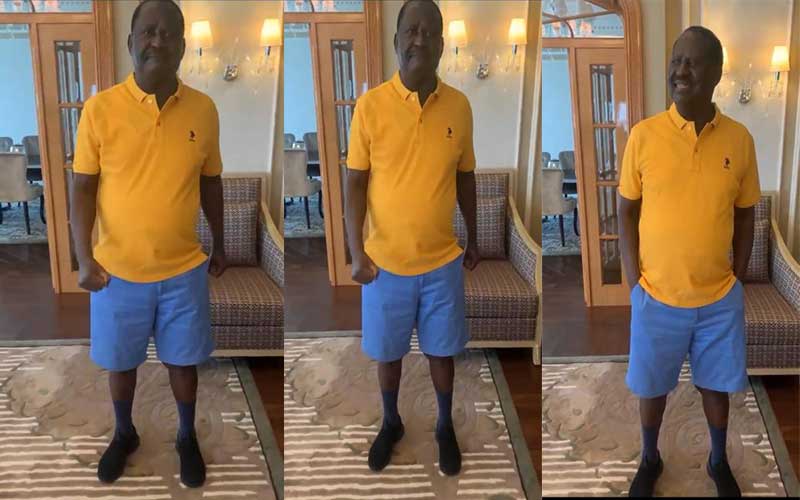 Opposition leader and African Union High Representative for Infrastructure in Africa Raila Odinga (pictured) has said he is feeling strong and fit after surgery.
Raila, who was flown last week to the United Arab Emirates for treatment, affirmed in a short interview that he was in good health.
"I am feeling strong and rejuvenated," Raila said as tried to jog. Reports say he underwent a minor nerve surgery.
Clad in an orange polo shirt, a light blue short, blue striped socks and black shoes, the Orange Democratic Movement leader beamed with confidence as he assured Kenyans that he was in great health.
He thanked his family, friends, supporters, leaders and the youth who sent several messages seeking to establish his health and whereabouts.
"My phone was inundated with messages from youth who sent me many messages of goodwill wishing me swift recovery," he said.
Raila was happy that at least he was now able to stretch out and breathe fresh air away from the confines of the surgical room where he had been for the last seven days.
"At least the outside air is fresh, I enjoy it," he said as he stretched out his hands to flex muscles and then pocketed them.
His wife, Ida Odinga, expressed relief and joy at Raila's recovery.
"This video is so re-assuring and I am happy to share it out. We thank God that He has seen us through this process. We thank Kenyans, too, for their prayers," Ida said.
The video was twitted by Raila's daughter, Winnie, who accompanied him to the Dubai-based German Medical Centre.
"And we're back! Feeling good and fresh, ready for the game! A special message from Raila Odinga," she said in the video clip.
Ida told The Standard that after such surgeries as the one Raila went through, patients are put through simple tests to weigh their ability to retain and recall things.
"Everybody was talking like you were in ICU. How are you feeling now?" Winnie asks in the clip, and he says he feels strong and rejuvenated.
Ida revealed that she had talked to her husband when we called: "He told me he has just come from the gym, and was headed to the cafeteria to take a cappuccino."
The German Medical Centre is a Dubai-based specialised healthcare facility whose mission is to offer "integrated, highly qualified medical services in utmost privacy and patient confidentiality".
The hospital says it aims to increase Health to your life and add life to your years, including good medical communication between the doctors and their patients.