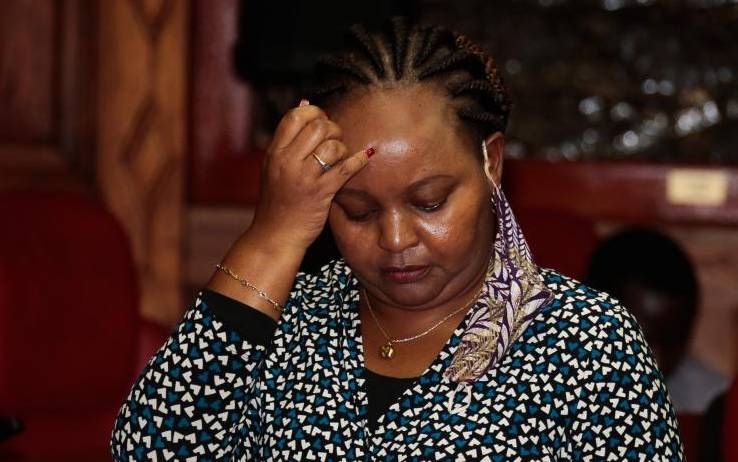 Governor Ann Waiguru (pictured above) made fictitious claims and used proxy companies to allegedly swindle funds from Kirinyaga County coffers.
According to witnesses, who appeared before the Senate select committee inquiring into charges against her by ward reps, Waiguru used her staff to influence tenders for personal benefits.
A former Gender and Youth Affairs executive Lynette Mwangi spoke of how the governor micro-managed affairs of the county. She claimed anyone who didn't agree with the governor's demands was frustrated to the point of resigning.
Ms Mwangi, who resigned after 16 months, faulted the governor's style of leadership, saying she is high-handed.
Ms Mwangi claimed that at some point, she was forced to disembark from a plane to New York, US, when a county delegation was going to seal a coffee shop deal. However, she said, the deal never materialised.
The former official told the Kakamega Senator Cleophas Malala-led committee that the governor appointed her to chair a task force on healthcare and when she tabled a nine-page report, she was turned away and asked to reduce action points and produce a list of those to be fired.
"I didn't have an appointment letter for this assignment. I coordinated all departments. This is how casual governance in Kirinyaga is run," she said.
Seek clarification
Senator Abshiro Halakhe questioned how Mwangi concluded the governor's reaction to the report meant she was not interested.
"If she asked for the list of culpable staff that needed to be fired and reduced action points, it could have been in good faith. I wonder why you concluded she was callous and dismissive," the senator said.
Ms Mwangi, who resigned as a nominated MCA to work in Waiguru's government, recounted how the governor kicked her out of a delegation to the US.
"I reimbursed Sh150,000 which I had been paid. This is enough to pay bursary for 10 children," said Mwangi, who was put to task by Waiguru's lawyer Kamotho Waiganjo to confirm her new employment at the Interior ministry at Harambee House, as the reason she was testifying against the governor.
She denied, saying she is currently not employed.
"I served as an MCA at the beginning of her term in 2017. Despite knowing the challenges, I proceeded to resign to join her," she said.
"I resigned. I realised I could reconcile my conscience not to be part of the scheme to defraud the public. I used the word 'defraud" deliberately."
Senator Judy Pareno sought to know if 'defrauding the public' was through the tickets or the funds she had to return following the cancellation of tickets and her trip.
"I think whether money spent on the coffee shop was lost or not, the people had high expectation and continue asking to know its progress," she said.
Based on hate
Senator Stewart Madzayo told Ms Mwangi that her testimony could be proof of personal hatred because she didn't elaborate on her personal statements.
Senators Malala and Beatrice Kamboka sought to know how Ms Mwangi knew the project in New York didn't take off yet she never travelled to the US.
The County Assembly's counsel Ndegwa Njiru also put on the spot Chief Finance Officer Patrick Mugo Ndathi over the purchase of Sh14 million governor's car, asking if the tender committee was chaired by her ICT advisor Wayne Gichira.
"Wayne Gichira is the ICT advisor to the governor. I had the responsibility to constitute the evaluation committee after getting an opinion from experts and the procurement director," said Ndathi.
Njiru grilled Ndathi on who appointed Gichira and gave a tender to Velocty. "The tender questioned was executed on March 7, 2018. Wayne was a member of the committee and his role was chairman," Ndathi said.
Velocty is mentioned in the Sh50 million query for consultancy and works in level four hospitals yet it was formed in 2017.
Njiru demanded to know from Ndathi who authorised the purchase and why they sought a bank guarantee after Controller of Budgets (CoB) Agnes Odhiambo stood her grounds that the vote head should be recurrent, not development.
On the same inquiry, Ndathi was at pains to explain why his brother, Edwin Ndathi, the owner of Ever Tradings Company, secured many contracts, including the Access to Government Procurement Opportunities.
"I know Ever Tradings Limited and Edwin Gichogi Ndathi is my brother. I am not aware if he was involved in the tendering process. I don't get involved in what my family does," said Ndathi.
Njiru sought to know if he knew his brother participated in Waiguru's campaigns in 2017 and if the contract was a reward.
"The CFO facilitates tenders without declaring a conflict of interest. My relatives can do business anywhere without my knowledge. I qualified for this job," Ndathi said.
Njiru also took Ndathi to explain why he didn't surcharge the governor for failing to refund money for the January trip she was not part of.
"No. she didn't comply with the seven days provision in law but I raised the same with her assistant. The refund was done in April this year," he said on the Sh10 million imprests by the governor.
MCA Kepha Kariuki said the ouster motion had no public participation.