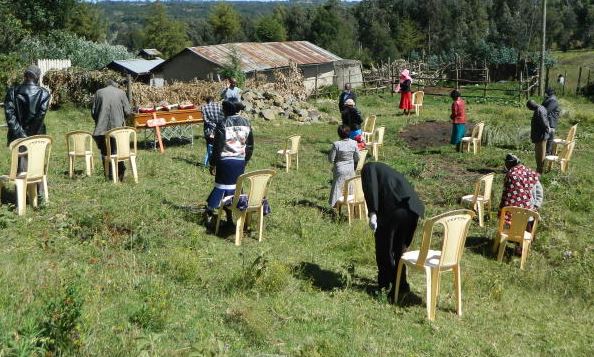 It is exactly 64 days since Zack Onyango got a call that his brother had died from what was suspected to be complications from Covid-19.
Onyango remembers everything. The shock of being informed of the sudden death of his older brother James Oyugi, and the white pickup that snaked into their village carrying the body. It was a few minutes past midnight. Aboard the pickup were health officials dressed in white overalls, goggles and gloves. Not a part of their bodies could be seen.
"My brother was thrown into a shallow grave and the health officials buried him hurriedly. We watched in shock. They were not talking to us. Sometimes, when I am walking, the images come flashing back and I am overwhelmed by emotions. I never want to talk about it. I pray that those bad memories will one day fade," he says.
Read More
There was no casket for Oyugi. No song and elaborate funeral rites. Being buried in the deep of night as was done by the health officials is a taboo; only done to waywards in the community and those who had committed serious offences like rape and murder.
Burials such as Oyugi's and others related to Covid-19 are pushing conversation on stigma around the disease and the role authorities could be playing in advancing it.
"They stripped my brother of the dignity he deserves. We believe his spirit is still roaming the earth, calling for a decent burial," says Onyango.
That same day, relatives and those who had watched the burial from a distance were whisked into a quarantine facility.
"My elderly grandmother was not spared. She is still traumatised and we worry about her health," Onyango says.
Since then, even the community around them has been avoiding them, referring to them as the "corona family".
Siaya Governor Cornel Rasanga appointed a team to investigate the 'inhumane' burial but they are yet to hear anything. At the time, Health Cabinet Secretary Mutahi Kagwe faulted the country for not adhering to the burial regulations.
"It is not the wish of the Ministry to conduct the burial as it happened which was not in line with the guidelines that promote a dignified burial, respect for the deceased and respect of the rights of the family," said the CS.
There was public outcry, with people demanding the end of stigma when burying patients suspected to have died of Covid-19.
The burial of Bungoma Senator Moses Wetang'ula's brother Anthony Waswa sparked another wave of conversation.
"I watched the burial and felt a chill. It reminded me of the early days when the first cases of HIV were handled in the same way. Dying of Covid-19 now looks like you have committed a crime," said Erick Nanguno on a Twitter post.
In Bomet, Erick Kosgei who died of Covid-19 complications was buried in record time by health officials. His family members did not attend the burial. They were in quarantine facilities and were only told on phone how the event was conducted.
Photos of the officials in white hazmat suits reflecting in the night as they lowered the body is all they have to remind them of their loved one's final journey.
In a webinar hosted by the Ministry of Health last week to address burial stigma, Dr Pacifica Onyancha, head of directorate of preventive and promotive health said there are still gaps to be addressed.
"We need to stop calling them Covid-19 deaths. Let us call them them people and not the disease that killed them. If possible, allow families to be there and have a limited kind of service," she said.
Dr Johansen Oduor, chief government pathologist, said once the body is treated and bagged, the virus cannot move from one person to another. He urged implementers of the guidelines to be sensitive to avoid creating more stigma and pain to the bereaved.