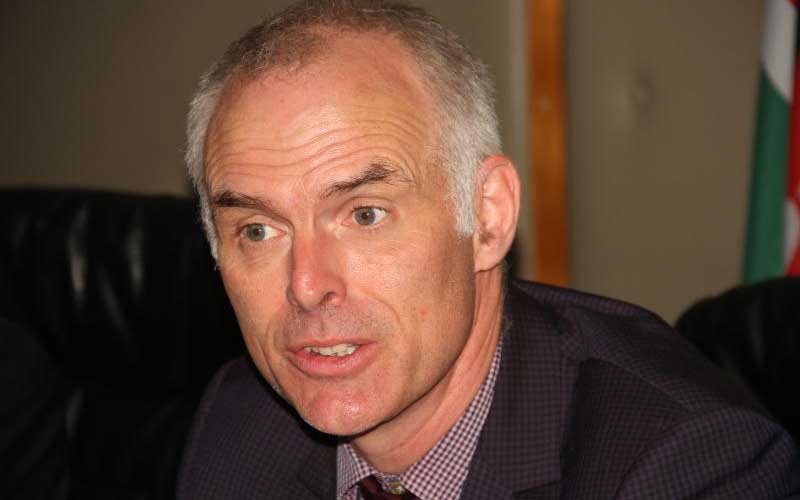 The European Union on Monday said it had injected an additional Sh7.8 billion (€65 million) into Kenya's purse to help cushion it from the effects of Covid-19. The money will be used to address the socio-economic impact of the pandemic, including helping Kenyans at risk of hunger and strengthening measures to prevent the virus spread. It adds to an earlier Sh8.4 billion provided to fight the pandemic in informal settlements. EU Ambassador to Kenya Simon Mordue said they had recognised the severe impact the coronavirus crisis was having on people's lives.
SEE ALSO: Save Kenya from ridicule, solve schooling crisis now
"We are making a real difference to local communities across the country as well as in Nairobi's informal settlements who are most affected by the outbreak, strengthening our partnership with Kenya," the envoy said of the programme. In the new tranche, Sh3.6 billion of the funding will be pumped into the government's budget to mobilise resources towards containing the spread and impact of Covid-19 in the health, social and economic sectors. Vulnerable families and individuals in informal settlements will receive Sh1.2 billion through monthly cash transfers. The EU said it will conduct careful checks to avoid double recipients and ensure health services are provided to the most vulnerable people. Often, donor funds are riddled with cases of embezzlement at the expense of deserving households. SMEs will directly get between Sh2.4 billion and Sh3 billion to for short-term working capital to keep them afloat during the pandemic and cut the ballooning job losses.
SEE ALSO: UK orders recall of 741,000 coronavirus testing kits over safety concerns
"Later, this will stimulate investments for the post Covid-19 recovery period," the EU said. Another Sh600 million will be used the Safe Trade Emergency Facility which maintains the critical supply chains for trade, ensuring food security and access to critically required medicines. The EU said it had committed to supporting the governments' efforts in the fighting the coronavirus pandemic to the tune of Sh35 billion. EU member states have already provided more than Sh3.3 billion, the union noted. The first donation was released in April including a Sh221 million funding towards water sanitation, provision and awareness raising across hotspots in 25 counties. "This collective support by team Europe is a statement of Europe's friendship and partnership with Kenya in these difficult global times," it said.
SEE ALSO: 699 test positive for Covid-19, pushing tally to over 25,000