Death of Muslim cleric could have led to closure of Eastleigh market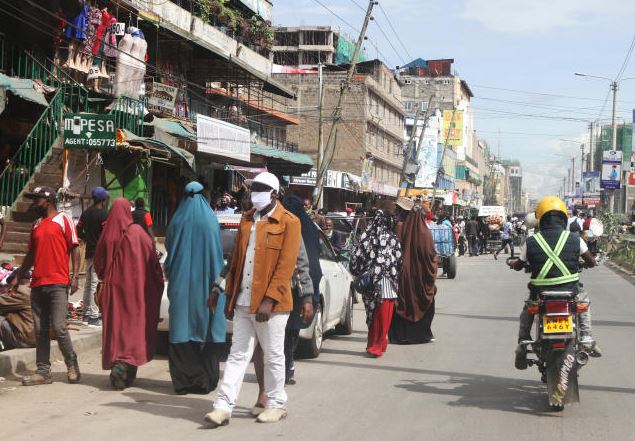 The death of a Muslim cleric could have triggered the closure of the Eastleigh shopping hub in Nairobi on Friday.
The cleric, who lived in the area and had tested positive for Covid-19 died on Thursday.
"There was a sheikh who was praying and going to various houses and he died of Covid-19," said Health Cabinet Secretary Mutahi Kagwe.
On Friday, Eastleigh Business Community Secretary-General Omar Hussein said they resolved to close down all businesses immediately and without notice so as to avoid panic shopping by the residents which would lead to disregarding government directives on social distancing.
"This is necessary since coronavirus is real and most of the people in the malls are not following the directives of the government," Hussein said.
An email from the business community issued on Friday afternoon also highlighted the precarious place that the estate finds itself in.
"The highest numbers of positive cases are now concentrated in Eastleigh. I have been informed by Cabinet Secretary Fred Matiang'i and Cabinet Secretary Mutahi Kagwe that the government had decided to take drastic measures to contain the spread in Eastliegh," the email reads.
The communication also warns residents and business owners that there exists the possibility of the State deploying the General Service Unit (GSU) officers to enforce social distancing rules.
"I am appealing to you to take immediate measures to prevent a lockdown," the email reads.
The measures put forth included the temporary closure of all businesses with immediate effect, to review and reinforce all the public health measures, including the provision of adequate water, washing facilities, soap and sanitisers.
The association also asked residents to observe strict physical distancing and be ready to work with any government officials that might be deployed to the area.
Earlier, there were fears among residents and business owners in the area as rumours spread that the latest individual to die of the virus was a business owner and a resident of the area.
The indefinite closure of businesses in Eastleigh will put in jeopardy hundreds of jobs in the area and shut a crucial feeder for household and clothing items.
Stalls and shops in the area have become popular for clothes, curtains, utensils as well as electronics due to their variety on offer and fairer prices compared to other traders in the city.