Tribunal asks President Uhuru to sack Justice Muya for gross misconduct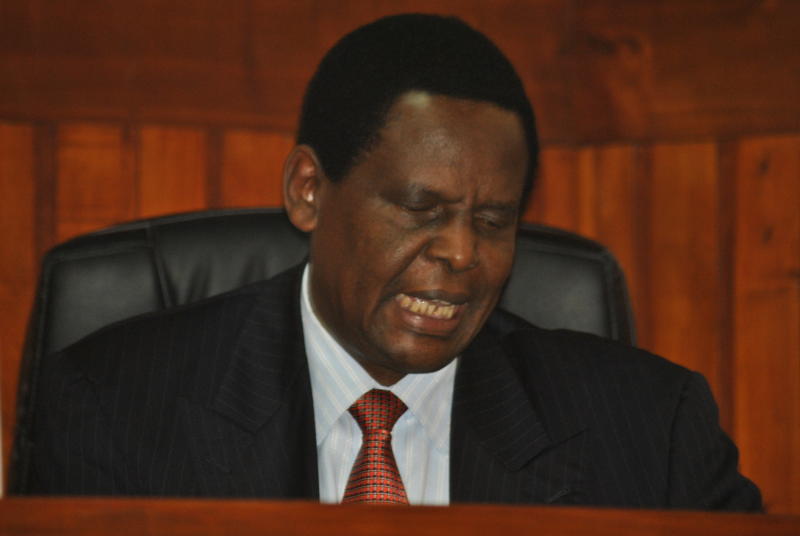 A tribunal constituted by President Uhuru Kenyatta to probe allegations of misconduct against High Court judge Martin Muya (pictured) has recommended his removal from office.
The tribunal, chaired by retired Court of Appeal Judge Alnashir Visram, has been investigating the conduct of the judge and returned unanimous verdict that the allegations had been substantiated and proven. It recommended that he be forced out of office. The body handed over their report to President Kenyatta at State House yesterday.
Justice Muya was among three judicial officers, who the judges' employer, Judicial Service Commission (JSC), had recommended to the President to set up a tribunal to probe their conduct, following different petitions filed against them.
Others that the Commission, chaired by Chief Justice David Maraga, wanted to be probed are Lady Justice Lucy Waithaka of the Environment and Land Court and Justice Njagi Marete of Employment and Labour Relations Court.
On the High Court judge, JSC said the petition had disclosed bias, abuse of office, incompetence and gross misconduct in the manner in which the judge handled a case before him.
The complaint was filed by NIC Bank, the defendant in a matter before the High Court in Bomet, a Mr Alfred Kipkorir Mutai and Kipsigis Stores.
"In that case (HCC NO 4 of 2016), the judge, after numerous adjournments, granted an injunction and reserved the reasons thereof for a period of five months," stated JSC in a statement. "This was in disregard of pleas by NIC Bank that vehicles held as security were being sold and were eventually sold, thus occasioning loss to the bank."
Justice Muya could still appeal against the decision of the tribunal, but if he exhausts all the appeal routes, then the President will have to act as per the recommendations of the tribunal and remove him.
Others who sat in the Visram-led Tribunal were Lucy Kambuni (vice-chairperson), Festus Azangalala, Ambrose Weda, Andrew Bahati Mwamuye, Sylvia Wanjiku Muchiri, Amina Abdalla, Paul Nyamodi, Stella Munyi, Peter Kariuki and Josiah Musili.
MPs condemn fund boss removal
35 Women Representatives called for Ndambuki's immediate reinstatement, claiming that the move to remove her was politically instigated.