I saw it coming, Kiunjuri says after losing his job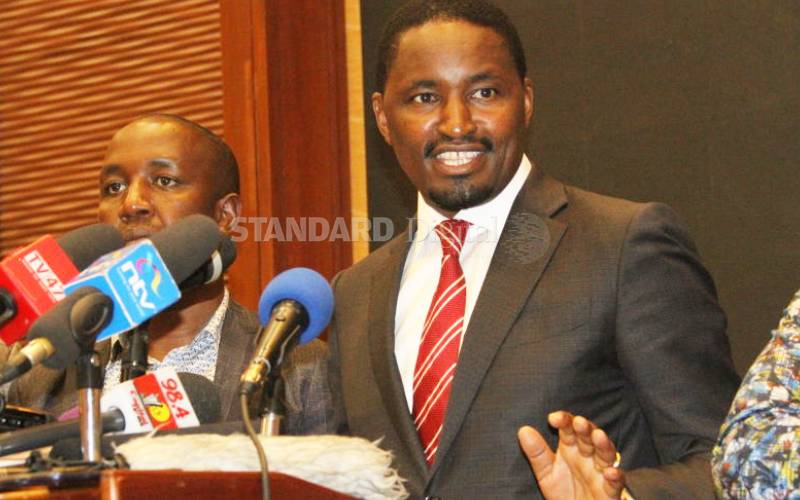 Former Cabinet Secretary for Agriculture Mwangi Kiunjuri's has said his sacking did not take him by surprise.
But as soon as he learnt of the sacking, which he watched on a banking hall TV that beamed live President Uhuru Kenyatta's address yesterday, Mr Kiunjuri was not the same again.
Kiunjuri, who had been driven to the bank on Nairobi's Biashara Street in his official Land Cruiser V8, left in a different car, reportedly unaccompanied by his official security detail.
"The CS came in the V8 but left in a Mercedes Benz after learning of his sacking from the TV stations beaming the event live in the bank. He had come to Equity Bank to withdraw money," a witness said.
The witness added that Kiunjuri was heard saying: "Hata hiyo gari sipandi (I won't even enter that (official) car" as he jumped into the other one.
Later, while addressing a news conference, Kiunjuri said: "I have gone through a most difficult year that on a number of occasions threatened my energy and resolve. Some of you know that I have endured a lot of humiliation… only God and my immediate family know how this made me feel".
Uhuru replaced Kiunjuri with Peter Munya, formerly of Trade and Industrialisation. Kiunjuri wished Mr Munya well.
He said he would focus on other matters of national interest. "I turn a new page, knowing very well that when God closes one door, He opens another. I believe there is a door down the road," he said, urging his supporters to stay calm, confident and not to cry for him. "You know I'm resilient."
Kiunjuri told critics accusing him of running down the Agriculture docket that Uhuru had, in his speech, mentioned remarkable growth. "I'm glad the President acknowledged that all agricultural production at all levels had gone up."
Kiunjuri thanked Uhuru for opportunity to serve in government. "During the four years... that I have served in this capacity, I have gained immeasurable experience, exposure and insider's view of how government works," he said.
Asked if he would divulge information on scandals that dogged his tenure, Kiunjuri said: "I 've a responsibility to keep oath of office. When I feel it is important to share information, I will. If provoked, I will react. For every action, there will be a reaction. I have so many things to say, both positive and negative. When provoked I will answer accordingly."
He distanced his sacking from the Building Bridges Initiative politics, saying the President had a right to undertake his mandate as the country's CEO.
"The President did not consult anybody when I was appointed CS," he said.
Kiunjuri was publicly lectured by the Uhuru in 2018 during the height of the maize scandal that rocked the country. Uhuru warned the CS over irregular payments made to maize cartels through the National Cereals and Produce Board (NCPB).