Sonko: I did not escape from Shimo la Tewa prison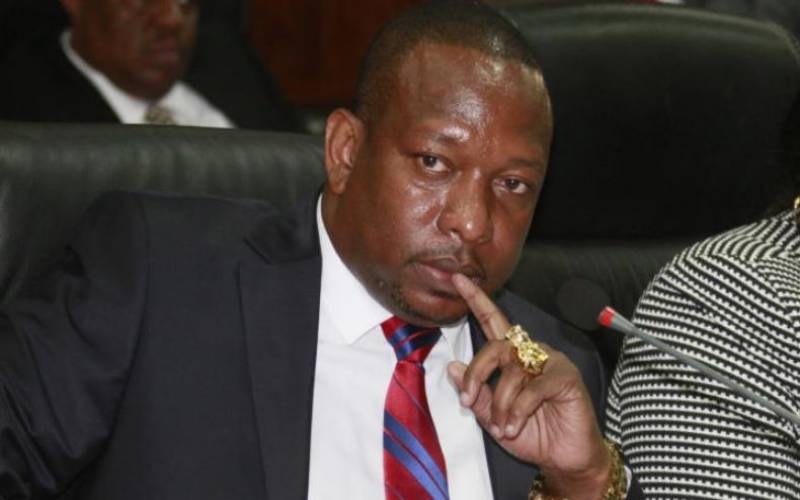 Nairobi Governor Mike Sonko has rubbished reports that he escaped from prison.
This is after officials from Shimo la Tewa Maximum Prison moved to court to demand that Sonko serve his remaining sentence and also be charged with escaping from prison.
However, the Nairobi Governor vehemently denied the allegations levelled against him during a Monday morning show at Radio Maisha.
Sonko admitted that he was convicted twice for failing to appear in court. As a consequence, he was slapped with a six-month prison term.
"Indeed I was jailed for failing to appear in court. I could not afford the fines so I opted for a jail term," said Sonko.
Governor Sonko was convicted on March 12, 1998, in a case number 675/97 after he was sentenced ordered to pay Sh200,000 fine or serve a six-month jail term.
He was also ordered to pay Sh500, 000 fine or serve six months in prison for failing to appear in court for another case.
Take a quick survey and help us improve our website!
Take a survey
Since he could no raise the fines, Sonko was committed to Shimo la Tewa to serve both sentences concurrently for 12 months.
Sonko's jail term was to end on March 11, 1999, but he only served one month.
While dispelling reports that he mysteriously disappeared on April 16, 1998, barely a month after his imprisonment, Sonko claims that he left with the full knowledge of Shimo la Tewa prison officials.
"I stayed in prison for one month and I was released after my mother's death," he said.
The Nairobi Governor, however, did not reveal whether he was released to bury his mother or was completely let off the hook.
He downplayed a question from the host on claims that he escaped prison by faking illness and sneaked out of the Coast General Hospital where he had been taken for treatment.
"These are things that happened 23 years ago and I have been cleared that is why I ran for public office."
"They should go to their records, conduct their investigations and we can meet in court," he said.
Two years after 'leaving' Shimo La Tewa prison, Miko Sonko says that he was re-arrested and charged with a different criminal offence. That was on November 15, 2000.
The officer in charge of the Industrial Area Remand Prison where Miko Sonko was being held alerted Shimo La Tewa Prison officer that they have Sonko in custody.
He was later on transferred to Kamiti Prison.
Again, he did not reveal why Shimo la Tewa was informed of his arrest yet he claimed to have been released.
"The head of Kamiti Prison l Shimo la Tewa and told them that the guy who was convicted has been found so I continued to serve my sentence," he said.
Sonko said that he filed an appeal at the High Court in February 2001 protesting his jail term.
In his appeal, Sonko said that he had not committed any capital offence save for failing to appear in court which according to him did not warrant him a one-year jail term.
"I had not robbed, killed or raped. I just failed to show up in court because I had so many personal problems, like my mother's incident. So I told the Judge to review my case," he said.
According to a court document that he produced during the Show, Sonko was released on February 12, 2001, after the judge reduced his sentence to the period he had already served in Shimo la Tewa and Kamiti.
"The sentence that was imposed on the applicant which were to run concurrently is hereby reduced to the period already served to ensure the immediate release of the applicant from prison unless otherwise lawfully held," the judge ruled.
While narrating his side of the story, Sonko said he was not afraid of talking about his dark past because he believed that he is now reformed.
He compared his past life to that of Kenya's first President Jomo Kenyatta and former Prime Minister Raila Odinga saying that they were imprisoned too.
The Ethics and Anti-Corruption Commission has been on the governor's trail.
On November 5, the commission summoned him to set the record straight over his past activities and pending cases.