Millions may have gone down the drain in bad land deals by NCCK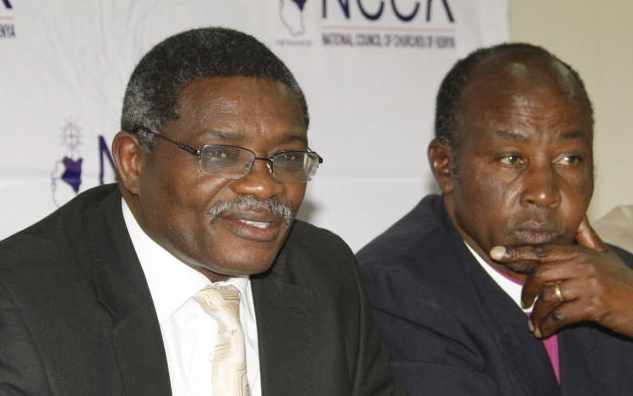 A struggling real estate portfolio and a series of bad debts may be at the centre of the ongoing leadership wrangles at the National Council of Churches of Kenya (NCCK), the Sunday Standard can now reveal.
An extraordinary general meeting has been called again on September 23, following a temporary ceasefire negotiated during the last executive committee meeting occasioned by last-minute horsetrading within the organisation's top leadership.
Documents in our possession show the organisation currently has loans amounting to Sh1.8 billion, with Jumuia Hospital having the highest debt portfolio at Sh1.2 billion. NCCK offices owe Sh362 million while Jumuia Resorts owe Sh275 million. Just about Sh90 million of this loan has been serviced so far.
Another audit report that was never presented to NCCK's Executive Committee also cast a dark cloud over the organisation's operations. The report, which the Sunday Standard has seen, painted a dire picture of the body's financial health as at the end of last year.
Rental income
"We were unable to ascertain the validity, accuracy, existence, and occurrence of regional balances amounting to Sh22,026,600 included on other receivables in the statement of financial position," the report reads in part.
The report further questions the completeness of rental income of Sh173 million and also questions classification of expenses amounting to some Sh584 million.
Financial reports also show in 2018, NCCK made losses amounting to Sh93 million up from Sh36 million the previous year.
Then, there is the story of SMEP Microfinance Bank Limited, a subsidiary owned by the religious organisation. Due to Central Bank regulations which require no more than 25 per cent share ownership by an individual, NCCK had to offload some shares for SMEP to reduce its stakes from 100 per cent.
To strike this balance, NCCK offloaded some 24 million shares valued at Sh240 million to ACK Thika Diocese and another 10 million shares worth Sh100 million to the African Brotherhood Church (ABC).
Records show that to date, Thika Diocese has paid only Sh30 million while ABC has also so far paid Sh30 million. Curiously, Thika Diocese has been issued with a share certificate, without completion of the purchase and the elapsed two-year grace period granted to the two churches from the time of initial purchase.
Sources from within NCCK also question why the umbrella body offloaded shares only to the two -- Thika ACK Diocese and ABC -- and no other member churches. Why has NCCK governance not questioned this decision?"
In 2014, NCCK got into a deal to buy a 15-acre piece of land in Ngecha Limuru at Sh17.5 million per acre, totaling to Sh262.5 million. An initial deposit of Sh50 million was secured from a local bank and paid to the land owners. The balance was to have been paid in nine months. This however did not happen. And the cost of purchase started incurring interest, as per an agreement between NCCK and the land owners to the tune of some Sh45million.
The cost of the land, after the default in payment by NCCK, stood at Sh245million the initial Sh50million payment notwithstanding.
To sort this mess, NCCK again entered into a loan deal worth Sh245 million with yet another local bank that later went under receivership. As surety for these loans, the organization offered the Jumuia Conference and Country Home in Limuru as collateral.
"If you buy land using a loan, it is prudent that you use the parcel of land as a surety but in this case that did not happen, which means those who negotiated the deal were avoiding scrutiny from the bank over the value of land," another NCCK insider said.
Stuck with unused land and non-performing loans, the Executive Committee decided to have it disposed. However, two independent valuers returned a shocking verdict. The land was only valued at Sh13 million per acre – two years later – some Sh4.5 million less than the initial cost the land was sold to NCCK.
Currently, the loan, which is still in default, stands at Sh240million. Sunday Standard has also reliably learnt that the ownership documents for the land have never been surrendered to the organisation because of an outstanding Sh8.2 million that was accrued over another two months delay before payment was made to the landowners after NCCK secured the Sh240 million from the second bank.
Fruitless meetings
Although cash strapped, NCCK had just the previous year, 2013, sold a prime piece of land in Nairobi's Buru Buru area for more than Sh200million.
This was not the only questionable land dealing the NCCK got itself into. In another incident, NCCK got into a deal to buy a three-acre piece of land in Kanamai, Kilifi County, at Sh60 million. Private valuation nonetheless put the value of the land at Sh30million, half the purchase price.
The other area of concern that has auditors poking holes into enterprise NCCK is the matter of Jisaidie Sacco. Audit queries indicate that up to Sh70 million of contributions by NCCK's employees to the Sacco are yet to be remitted to the savings cooperative.
Minutes from the Sacco's Annual General Meeting held on February 24, 2018 indicate the same.
"He reported to members that the management had done everything possible to try and recover these monies. He reported that he worked closely with the Cooperative Officials who now seem to have grown tired as the many meetings bore no fruits. He introduced a lawyer who Jisaidie had engaged to help in collection of these monies, Mr Peter Kimani."
This particular minute refers to efforts by the sacco's chairperson Chris Kinyanjui. Curiously, Kinyanjui is presumably the next General Secretary to NCCK.
Asked for comment on the ongoings at NCCK, outgoing General Secretary Karanja said: "What is your obsession with NCCK; I am at a social function." He then hang up.
The two men have a history that predates the recent falling out at the churches' umbrella body. Kinyanjui's relationship with NCCK dates back to 2007 when he was its senior programmes officer, a position he held for 10 years before he left to join Muranga County Assembly after the 2017 General Election.
But two years ago, Kinyanjui, who hails from Murang'a, was ordained a deacon in the Anglican Church of Kenya's Thika Diocese by Bishop Julius Wanyoike; a year later, he was ordained priest in the ACK Diocese of Machakos.
One of the requirements for a person to be named General Secretary of NCCK is that the person has to be an ordained minister in a member church.
And as the September 23 extra-ordinary meeting approaches, Kinyanjui might just be taking over a financially insolvent organisation, a far cry from the robust organisation that Kenyans have thought NCCK to be.