How Kenya lost battle to enforce leadership and integrity laws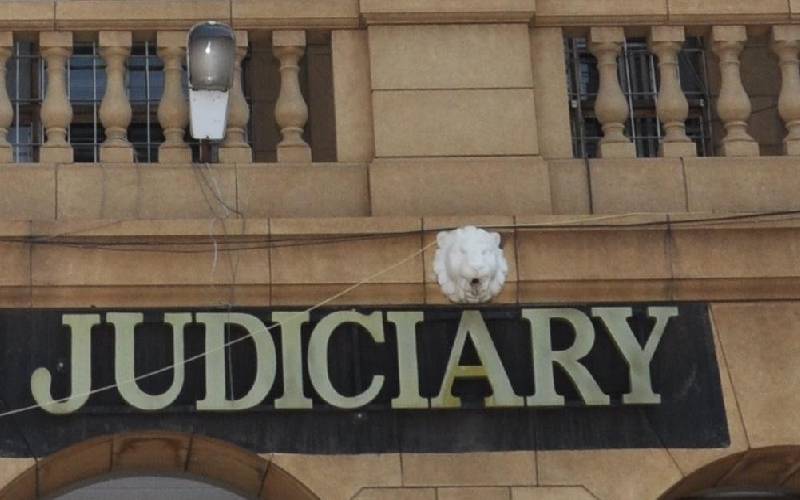 Public office holders continue to be tainted with criminal charges despite the Constitution setting the bar high on the integrity of state officials.
On Thursday, President Uhuru Kenyatta constituted a tribunal to probe the conduct of three judges - Njagi Marete, Lucy Waithaka and Martin Muya – who have been accused of incompetence, bias, impropriety and professional misconduct.
Growing numbers
The judges are part of a growing number of members of the Judiciary facing integrity issues, among them Supreme Court Judge Jackton Boma Ojwang, currently suspended and a probe into allegations of misconduct set to kick off.
Just last week, the High Court dismissed criminal proceedings against Deputy Chief Justice Philomena Mwilu, ruling that the Directorate of Criminal Investigations (DCI) had obtained its evidence illegally.
The judges' tribulations are a ringer of former Deputy Chief Justice Nancy Barasa's predicaments in 2012 when she was forced to resign from office over misconduct.
Yet, pundits insist that the standards of holding leader's integrity have degenerated from those that saw Dr Barasa exit office over an incident in which she was accused of pinching a mall guard's nose and brandishing a gun in her face.
"That standard that we applied against Barasa was the right standard and we needed to have maintained it, but they have lowered it to a level where criminals are in public office and they continue to gain power and influence," Samuel Kimeu, the Executive Director Transparency International Kenya, said.
Despite sections of the Constitution spelling out the integrity standard expected of public officers, Kenya is still struggling to have leaders whose conduct is beyond reproach occupy office.
The Judiciary, Parliament and the Executive are peppered with officials whose integrity is in question, casting a doubt on the commitment to enforce ethics and integrity in public offices.
"When we promulgated the Constitution in 2010, we seemed to appreciate very well what we meant by the provisions of Chapter Six, but the politics around the ICC muddled that understanding so that people no longer know what Chapter Six was all about," Kimeu said.
In Parliament, about 15 legislators have pending cases in court ranging from corruption, incitement, assault, fraud and forgery.
While the Constitution does not bar anyone from running for political office, it sets the criteria of who can occupy a state office.
Convicted criminals are barred from holding public offices but persons facing charges are free to contest.
For instance, Nairobi Governor Mike Sonko has had well documented run ins with the law.
He has admitted to being convicted and serving sentences in Shimo la Tewa prison in 1998 and Kamiti Maximum Security Prison.
Ndung'u Wainaina, the Executive Director of International Centre for Policy and Conflict, believes that political parties are to blame for the lack of integrity among some Members of Parliament.
Political parties, he said, had the power to be political gatekeepers by enforcing conditions that will lock out individuals with criminal charges from contesting office but had relegated their duty in favour of candidates who can win.
"Clearly, when it is a question of power and self-preservation, all political parties band together. When it comes to fielding 'criminals', all political parties share a common manifesto," he said.
For instance, former Laikipia North MP Mathew Lempurkel was nominated by ODM to defend his seat despite having spent time shuttling between courts facing a number of criminal charges.
Criminal proceedings
Similarly, Jubilee settled on Oscar Sudi to defend his Kapsaret seat despite facing charges in court for allegedly forging academic certificates.
It is also instructive that in the run up to the 2017 General Election, the IEBC cleared some 106 nominees to contest for elective office yet the Ethics and Anti-Corruption Commission (EACC) had flagged them for integrity issues.
"In 2017, there was a lot of positive rhetoric emerging from political parties about the integrity they were looking for, but when the rubber hit the road, all standards were dropped and IEBC followed suit," Kimeu said.
President Kenyatta has also been caught up in the mix when he nominated former Kenya Power CEO Ben Chumo for appointment as Salaries and Remuneration Commission (SRC) chairman even though he was facing criminal proceedings in relation to economic crimes arising from his tenure at Kenya Power.
The National Assembly Committee on Finance rejected Dr Chumo's nomination, saying he failed the test.