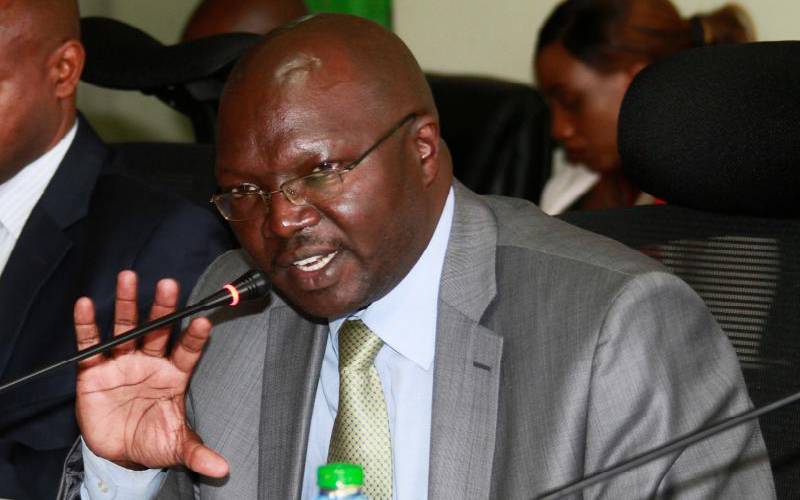 Eight governors from Arid and Semi-Arid Lands (Asals) have signed a Sh3 billion grant deal with a State agency to finance drought mitigation measures in their counties.
The deal signed between the governors and the Water Sector Trust Fund (WSTF) seeks to help the counties combat lack of water as a result of drought, as well as provide proper sanitation.
The European Union (EU), through the 11th European Development Fund, will also be helping with the funding.
The eight are Baringo, Kajiado, Kilifi, Kitui, Mandera, Samburu, Taita-Taveta and West Pokot.
Speaking while officiating the signing of the deal yesterday in Nairobi, Water and Sanitation Cabinet Secretary Simon Chelugui urged the governors to utilise the funds prudently.
Read More
"As a ministry, we continue to ensure that in resource management we enhance transparency and accountability in the planning, implementation and monitoring of projects and programmes," said Mr Chelugui.
Chelugui said water was one of the most import aspects in the country, and was a key driver in President Uhuru Kenyatta's Big Four agenda.
"We have now a 63 per cent water cover in the country. We want to push so that we can possibly have 100 per cent by 2022, this will be achievable through resilience and handwork in the ministry as well as partnerships with other stakeholders," said Chelugui.
Mitigation efforts
Chelugui said that the EU was contributing Sh2 billion, while the national government will give Sh453 million. The county government will raise the remaining Sh348 million.
WSTF Chief Executive Officer Ismail Shaiye said there was need to involve counties in drought mitigation efforts.
"Contributions by counties in terms of financial or technical support as well as political goodwill will go a long way into achieving a bigger impact in securing our communities from drought emergencies," said Mr Shaiye.
Kilifi Governor Amason Kingi said the move was welcomed given that residents in the Asals continue to suffer because of lack of clean drinking water.
"County governments have tried to allocate funds for water provision but the cash is not enough, we welcome this grant," said Mr Kingi.
Patrick Kokonya, the WSTF Chairman, said if the project was carefully done, communities would benefit from access to water and sanitation services.