Uhuru rallies citizens against corrupt Government officials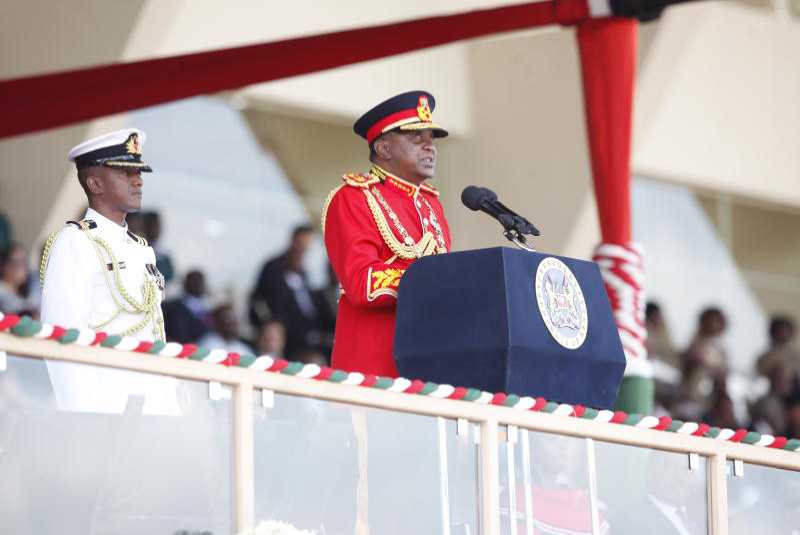 The noose is tightening on graft lords, and the corrupt have nowhere to hide, President Uhuru Kenyatta has declared.
On the back of dozens of high profile arrests and prosecutions, the President also pointed at recent agreements with foreign nations to seize ill-gotten wealth stashed in banks abroad to demonstrate his "unshakeable resolve" and challenged Kenyans "to show me yours."
"All arms of Government must work together to ensure our nation gets rid of this menace. To those engaging in fraud and abuse of office, please listen to me keenly: You can run, but you cannot hide," Uhuru said yesterday when he officiated the 55th Jamhuri Day celebrations at Nyayo Stadium in Nairobi.
He continued: "We will catch up with you, and make you pay dearly for every coin stolen from Kenyans."
The President rallied Kenyans to join the war against the vice. He urged Kenyans to rise up and stop watching from the sidelines.
"It is time for you to become active participants in this war; it is time for you to say enough is enough, be it to a policeman or a governor, a clerk or a Cabinet secretary, a judge or a politician," Uhuru said, adding: "Nobody entrusted to hold public office has the right to demand a bribe from you or to squander what you and I have earned from our hard work. I have shown you my unshakeable resolve on this matter, now I need you to show me yours."
He urged the public to report incidents of corruption to the local directorate of criminal investigations office.
"If they don't listen, report it to your nearest Ethics and Anti-Corruption Office; if they don't listen, give the information to the media and to civil society to unmask these people. Do not tire of doing the right thing," Uhuru said.
The Head of State said his administration could not realise its vision for a better Kenya for all Kenyans unless all people worked together to conquer the monster of corruption.
"It is for this reason that we have deepened the war against corruption.
As part of our anti-corruption strategy, we have signed bilateral mutual legal assistance agreements with a number of countries in the Western world, which is making the world a very small place for corruption kingpins," Uhuru said.
He warned that there was almost nowhere left for the corrupt to hide their ill-gotten wealth robbed from Kenyans.
"Once proven it is stolen money, the agreements provide for the assets to be returned to the Kenya Government," Uhuru said, referring to a recent agreement for the return of ill-gotten wealth signed between Kenya and foreign nations.
He said his administration would continue to cooperate with foreign investigative agencies to counter the dangers of trans-national crimes, particularly drug and child trafficking.
"We shall not allow Kenya to be a base of operation for drug lords and our resolve on this matter should not be tested," the President said.
He said Kenya would also lead in urging the multilateral financial and political systems to take more action to stop corporations from illegally avoiding taxes, disregarding environmental responsibility and acting with cruelty and contempt against citizens of countries in which they are invested.
He reiterated his commitment to strengthening governance institutions, entrenching the rule of law and stamping out corruption.
Uhuru observed that through the efforts of investigative agencies and Office of the Director of Public Prosecutions, individuals who might have thought they were untouchable were now facing the full force of the law.
"These individuals deserve fair trials, but nothing more. I am again calling for the Judiciary to ensure that its procedures are not used to protect impunity," Uhuru said.
He said Kenyans spirits were dampened when they witnessed suspects released on ridiculously low bail terms, interference in legislative processes, and the use of the court process to delay justice.
As part of his strategy to sustain the war on corruption, Uhuru said he would, in January, attend a national anti-corruption conference organised by the private sector, religious leaders and civil society.
"I remain hopeful that this conference will come up with a road-map that we can adopt to further this war and get rid of this cancer," Uhuru said.
The cartels
He expressed satisfaction that his administration once again this year frustrated the cartels that had laid siege to the country's education system in the past years.
"We delivered yet another credible set of national exams for our Class Eight and Form Four students. As those who completed Class Eight proceed to secondary school, they should work hard, behave decently, love their country and protect it from its enemies, and most importantly embrace integrity," Uhuru said.
Yesterday, chairman of National Assembly Public Accounts Committee Opiyo Wandayi welcomed the president's declaration but asked him to fire implicated State officers.
Stephen Mutoro, secretary general of Consumers Federation of Kenya, called on the President to address Kenyans' frustration by dropping those implicated in graft.