Ugly spats as Kiplagat's wits threw colleagues off course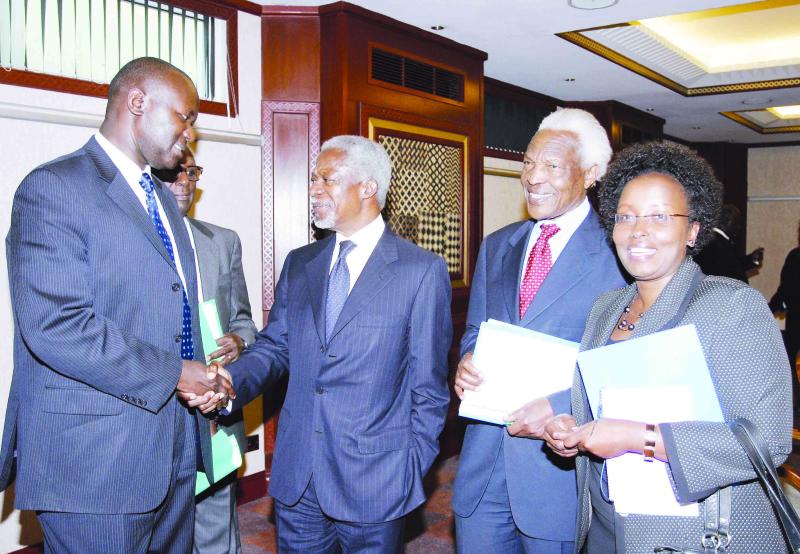 On a grumpy Wednesday morning, April 14, 2010, Truth, Justice and Reconciliation Commissioners gathered around their conference table to give their stubborn chairman Bethuel Kiplagat a piece of their minds.
Two days before, Kiplagat had snookered them "live" in front of television cameras, reneging on an earlier deal to "step aside" from the commission. It was now eight months since they had been sworn in but had not moved an inch because debate on credibility of the old man had taken centre stage.
In those eight months, he had taken them to the moon and back, blowing hot and cold on his supposed resignation but on this day, they were fed up: "Commissioner Farah (Ahmed) cryptically said there were many ways to kill a cat. Commisisoner Ojienda (Tom) said that Kiplagat should lie low like an envelope," Prof Ron Slye writes in his new book, The Kenyan TJRC: an Outsider's View from the Inside.
Before Slye could finish his part, Kiplagat interrupted, stood up and while pointing his finger at him yelled that he had never wanted him to be the chair. Slye says he froze on his seat.
A number of Commissioners quickly stood up, calmed him down and escorted him away from the conference table as the meeting took a small break.
"I had never felt such profound, personal anger from him. As he was yelling at me, his face turned more and more red and furious, and I honestly thought he might be on the verge of having a heart attack," Slye writes in his tell-it-all book.
Kiplagat was a grand wily old man who had come a long way. He knew his game too well, swinging the law to his defense, brandishing the emotional card and double-dealing them when it mattered.
When it came to the three core issues at the heart of his credibility; presence in Wagalla town ahead of a massacre, beneficiary of squatter land and declaration as untruthful witness in a high profile murder case (Robert Ouko), he often spoke from both sides of his mouth.
Wagalla claims
"Kiplagat initially told us that he had never been to Wajir in his life. A few weeks later, he revised his statement and informed us that he could not remember," Slye writes of the Wagalla allegation.
On the land issue, Slye writes that he gathered them on a table on February 11, 2010 for a candid conversation in which he owned up to acquiring the plots of land attributed to him in the Ndung'u Report.
He also confessed having acquired another plot in a settlement scheme in Trans Nzoia, insisting he was landless at the time. On the Ouko murder, he had recused himself as minor witness who knew nothing about the murder.
However, when the Commission dug in and obtained the John Troon report on the murder, they were shocked to find that Kiplagat had been found to be untruthful witness "who probably knew far more about the circumstances leading up to the assassination than he was willing to divulge".
With all these revelations, the Commissioners who had been defending him in public, began to go for him. Vice Chair Betty Murungi was the first to threaten a moratorium until the Kiplagat question was answered.
"Ambassador Kiplagat continued to engage in dissembling, manipulation and political maneuvering to strengthen his own position, often at the expense of the commission," Slye writes.
Not even impassioned pleas from former chair of the South African truth process Archbishop Desmond Tutu and nine other members of truth commissions from around the world could move him.
Summoned by Parliament on February 26, 2010, he indicated to Commissioner Ojienda that he would announce his resignation. He was pulling their leg, for by the end of his statement before MPs and media, he had only dug in more, vowing not to succumb to lynch mobs.
"Commissioner Ojienda was visibly taken aback at Kiplagat's statement, as he was expecting Kiplagat to resign. Ojienda was the first to speak after Kiplagat read his statement to the press and asked Kiplagat if he wanted to clarify his statement – clearly thinking or hoping that Kiplagat had mistakenly omitted the language indicating his intention to resign," Slye says. The old man with a grey push-back rebuffed him. In the book, Slye says he was shocked to find that the US Embassy, through Ambassador Michael Ranneberger, was supporting Kiplagat.
"On the land issue, the ambassador somewhat surprisingly observed that everyone in Kenya had benefitted from shady land deals, implying Kiplagat's land dealings should not concern us. I left disappointed," he writes of a meeting he had with Ranneberger.
Kiplagat rejected or cleverly denounced all options meant at resolving his own credibility, the book says. If he left, the commission would receive no money, he argued. If a sub-committee of the commission investigated him, they would not be fair.
He also wagged the support of important stakeholders in the truth process and hired a public relations firm to assist him.
"For the next few months, he was often spotted hanging out on the lobby of the Serena Hotel, in the hope of meeting influential politicians and others to whom he could plead his case," Slye writes.
A retreat held at La Mada Hotel on March 17, 2010 to discuss "the Kiplagat problem" did not help much either as Kiplagat ended up pulling out of his briefcase a set of papers that would put an end to the matter there and then. The idea of commissioners adjudging him of his own evidence was rejected.
Eleven days later, and tired with the circus, Murungi quit as Vice Chair. On April 12, the commission met and agreed to request a tribunal to probe Kiplagat.
Slye says he looked tired, beaten and confused at the time.
So mistrusting of Kiplagat were the commissioners that when he agreed to the tribunal idea and his stepping aside, Commissioners stood behind their colleague who was typing the request letter, urging him to type faster lest the old man changes his mind and leaves without signing it.
"We breathed a sigh of relief as Kiplagat appended his signature to the letter. Commissioner Dinka insisted presciently that we sign three originals of the letter," Slye writes.
Breaking the news
They were right for even as he signed it, he was cursing that he may as well "spoil the whole thing".
When they convened a press conference the following day to break the news, the man stormed in and turned the tables on it.
He addressed the conference himself and pleaded his innocence but when he was done, Commissioner Berhanu Dinka, took over the mics and told the world of the previous day's agreement.
"As Dinka spoke, Kiplagat interrupted him a number of times to clarify that he was in fact not stepping aside. Kiplagat tried unsuccessfully on numerous occasions to move the mics back in front of him.
"It was an embarrassing moment; two wise and gray-haired African statesmen with more than 100 years of collective experience on the continent arguing with each other before the television cameras," says Slye. It would take six months later for Kiplagat to step aside, but a few months later, he returned, in his own words, "with a bang".
Thou shall not judge!
Just because something makes sense to you, does not mean it will to somebody else....