CS Matiang'i: We will impose instant fines on motorists soon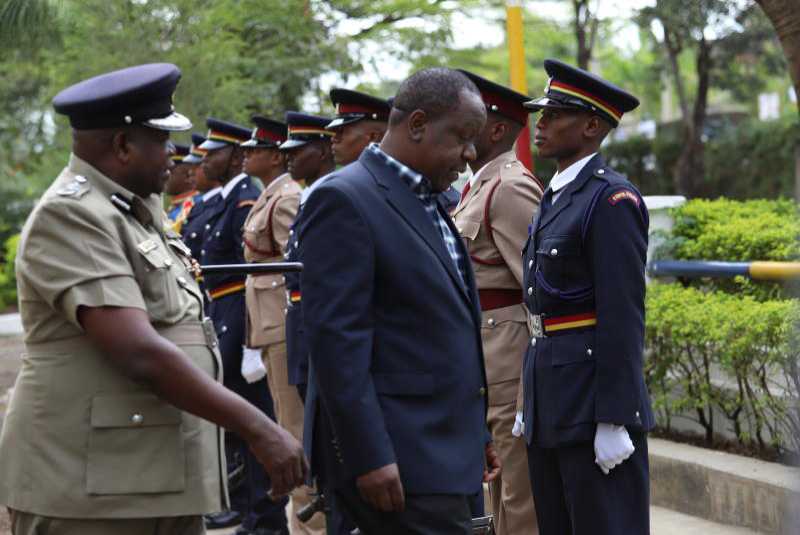 Kenyans would start paying instant fines for minor traffic offences after a month, Interior Cabinet Secretary Fred Matiangi has said.
This will be after a taskforce formed yesterday hands in its report on how the fines will be imposed.
Matiangi said he together with his ICT colleague Joe Mucheru and Transport's James Macharia formed a taskforce to be headed by Transport Principal Secretary Esther Koimmet to come up with rules to be followed in paying the fines.
The CS said almost 7,000 people being held in prisons are those taken there because of traffic offenses, which attracted a fine of even Sh600.
"Imagine these people were fined Sh1,000 and could not afford it and ended up in jails where they are consuming up to Sh20,000 a month. Some of these issues can be addressed through these instant fines," he said.
He said they were happy with a court ruling that allowed the mobilization of the rules as part of efforts to address corruption in the criminal justice system.
The penalties range from Sh500 to Sh10,000.
Justice John Mativo Tuesday ruled the Kenya National Union of Co-operative Staff failed to prove that the rules guiding the instant fines are unreasonable and unjustified, noting that the fines are meant to save time for the offender and justice system
The union sued the National Transport and Safety Authority (NTSA) and Macharia.
The judgment means motorists will also no longer be arrested, have their vehicles towed to police stations or pay fines in cash in fresh efforts to reduce corruption and restore sanity on Kenyan roads.
The instant fines were gazetted on September 23, 2016. Motorists who exceed the speed limit by between six and 10 kilometres per hour are fined Sh500.
Exceeding the speed limit by between 11 and 15 kph attracts a Sh3,000 fine and Sh10,000 between 16 and 20kph.
Motorists exceeding the speed limit set for their vehicles by between one and five kph receive a warning. The new rules have not spared pedestrians who will pay Sh500 for obstructing free passage of vehicles, a rule that is seen to discourage crossing roads at non-designated places.
Currently, motorists caught committing traffic offences must face the courts.
Failure to fit passenger vehicles with speed governors will attract a Sh10,000 fine while passengers who fail to fasten t belts will be charged Sh500.
The NTSA rules also provide for a Sh1,000 fine on people who leave a part of their body outside a moving vehicle, a rule that is expected to tame touts who regularly hang on doors of moving public vehicles.
Motorcycle passengers without protective gear will be liable for a fine of Sh1,000, same as the bike riders.