LSK top leaders dismiss ouster bid petitions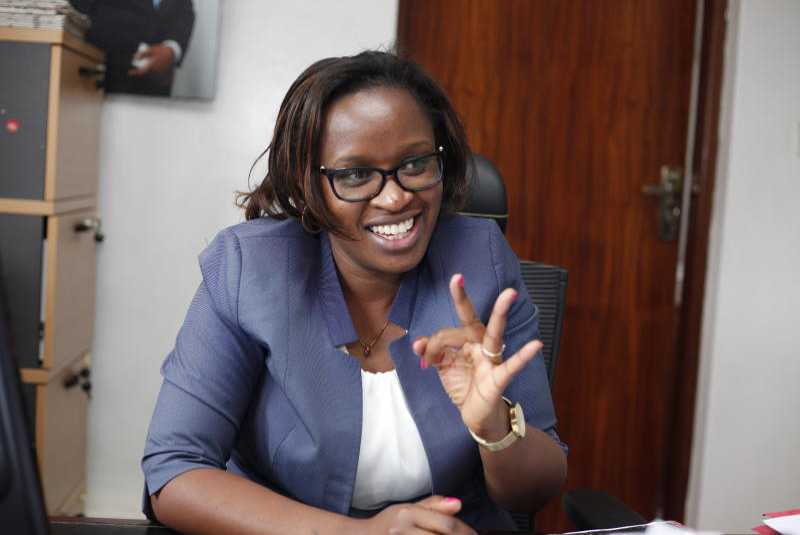 Petitions seeking to oust Law Society of Kenya (LSK) officials will not be part of the Special General Meeting (SGM) on Saturday.
The decision to strike out the two petitions seeking to oust LSK President Allen Gichuhi, General Membership Representative Roseline Odede and LSK Chief Executive Officer Mercy Wambua (right) was arrived at on Monday after an LSK Council meeting.
LSK members Edward Waswa and Sylvester Mbithi had sought members' nod to kick the trio out.
Mr Waswa, in a notice of Motion dated August 23, wants the SGM to impeach Ms Wambua.
And in a petition dated August 16, Mr Mbithi argues that both Gichuhi and Odede served LSK Council under the repealed law on diverse periods.
However, Gichuhi explained that the SGM was called for purposes of looking at the draft Law Society of Kenya (General) Regulations 2018, and that it would stick to the agenda.
Gichuhi said if any member was aggrieved and wanted to oust him, then there was a right procedure.
"There are a few disgruntled members who just want to cause distraction in the society," said Gichuhi.
He further explained that under his leadership, LSK had achieved many strides in practice and welfare of members.
While fighting off the ouster bid in Mbithi's petition, Gichuhi said there were a few elements that had started premature campaigns ahead of the 2020 LSK polls.
"I have the power to make ruling on petitions. We met as a council and we resolved that we will not entertain any petition apart from one agenda – to review the draft regulations," said Gichuhi.
The 15,000 membership society will also make consideration on the LSK International Arbitration Centre Legal Audit Report for adoption.
The SGM will also consider two Motions received from the LSK Development and Investment Committee on re-development and construction of a modern office block at LSK headquarters on its Gitanga Road plot.
There is also a Motion to bring the international arbitration centre project to a closure.
Wambua who has a petition hanging over her head, denied the allegations by Waswa terming them fabrications, malicious and defamatory.
She pointed an accusing finger to a web of few clique who are out to cause havoc and confusion within LSK and vowed that she will continue to discharge her mandate.
"I am an employee of the council and any person wishing to remove me from office must follow the Constitution, the Employment and Labour Relations Act and the LSK Human Resource Manuals. As we speak, that procedure has not been followed," said Wambua.
She also clarified on the allegations that she overpaid for the LSK staff medical scheme.
"LSK is obligated to have a medical scheme to cover the principal member, spouse and children for all the staff of the LSK. When we were procuring the medical scheme we realized that some eight employees had been left out and therefore we had to include them in the cover and that is where the sum of Sh441,796 comes in," explained Wambua.
She added: "The council procured fire equipment which included fire extinguishers, sensors and any tool and were placed in three different locations-at the Secretariat, at the development project and at the archives at South C."
And now the council has instructed Wambua to institute an internal investigations within seven days into the circumstances under which the documents were leaked.
If the internal investigations does not yield any fruits, council instructed Ms Wambua to invite the Directorate of Criminal Investigations (DCI) to find the culprit.