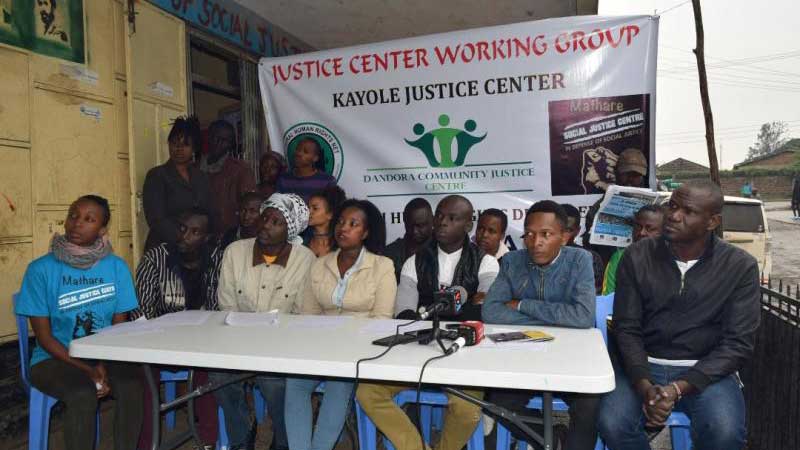 The killing of youths in Nairobi slums must stop and the police involved be investigated and prosecuted, a youths' social justice network now demands.
The network says in slums, 10-15 youths are reported missing, or killed by the police every month, and this has remained the order of the day.
Javan Omondi from Dandora Community Justice Centre says in Dandora alone, 12 young men have been killed in the last one month.
"Our communities have suffered for so long in silence and life has become unbearable. The police kill us, mothers are left without sons while others left widowed with the responsibility of raising their children without fathers," he explains.
A young mother, Lucy Wamboi is one of the people in the slums crying for justice. She says her husband Christopher Maina was shot and killed unfairly.
"My husband was picked while constructing a tank in Mlango Kubwa and later killed in February last year without explanation," she narrates, adding at that time, she was expecting a baby.
Lucy has since reported the matter to police and also, the Independent Policing Oversight Authority (IPOA) but so far nothing has happened.
She later gave birth and now finds it hard fending for the baby since her husband who was the breadwinner is no more.
"I am now suffering, no job and many times we have gone to bed on empty stomachs," she shares.
The network says more than 800 cases reported for prosecution, only two have seen the light in the courts.
Perpetua Njeri from Kayole Justice Centre says the killer police are people well known but they have been intimidating witnesses who now fear for their lives.
"This is a clear demonstration of how those tasked with maintaining law and order are discharging their duties with impunity," she explained.
The network says the government accuses youths of being gangs and criminals yet it is not providing opportunities for them.
Stephen Mwangi from Mathare Social Justice Centre says instead of killing youths, the government must address how or what leads youths into crime.
"Just like in any community, there are few characters with bad behaviors. And that doesn't warrant extra judicial killings since the Constitution says every person has the right to life.
We have a justice system, and constitution must be respected and all the suspects be arrested and taken through the judicial system in accordance with the law,"Stephen Mwangi said
Youths say police target them even when they are involved in legal work to earn a living such as touting, car washing, toilet cleaning and garbage collection.
John Mulingwa from Kamukunji Justice Centre says youths are accused for taking drugs when prominent people involved in supplying of drugs are spared.
He reveals on July 7 2018, families, victims, and the communities affected by this killings will have a march from our various justice centers to Kamukunji Grounds.
"The march on this historical day of Saba Saba is meant to address the menace of extrajudicial executions, police brutality and internal disappearances of innocent Kenyans in the name of suspects," he says.
"During the march, (Saba Saba) we will engage in community dialogue, get the victims talk and share their plight and petition the government through the Ministry of Interior and also petition to international organizations," says the convener of the network, Wilfred Olal.
The network wants the UN special Rapporteur on Extrajudicial Killings, Agnes Callanard, who has requested to visit, be allowed to visit the country.
"We demand that the government to facilitate this visit so that this matter be given attention both locally and internationally" he added.