Police finally visit vandalized NASA tallying centre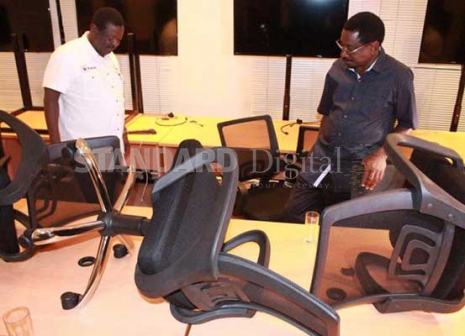 Police have visited the National Super Alliance tallying centre that was attacked on Friday night by hooded gunmen who stole computers.
The officers from the Parklands Directorate of Criminal Investigations went to the premises along Eldama Ravine Road in Westlands on Saturday evening but did not go to the scene of crime.
They claimed that the premises were locked and that there was no one to open for them to enable them to conduct their investigations.
This happened almost 24 hours after the raid.
The officers handling the issue said they hoped to visit the scene yesterday and that they were making efforts to contact the centre's boss, Willis Otieno.
The Opposition has accused State agents of being behind the raid as it came out that two foreign ICT experts who were working there were picked up from their apartments in the area and deported. Officials said Mr John Aristotle Philips (American), Mr Andreas Katsouris (Canadian), and two unnamed Ghanaians were bundled into planes destined for their respective countries.
Mr Philips is the CEO of Aristotle Inc, a Washington-based data mining firm, which had been contracted by NASA to design its political strategy, while Mr Katsouris is listed as a senior vice-president in the company.
Siaya Senator James Orengo accused the police of staging the attack, which left electronics strewn on the floor of the secluded building.
"This was not a robbery. It was not an assault but State-sponsored terror carried out by a Gestapo," he said.
Police have denied any role in the attack.
Reports claim the about 20 raiders were armed with guns.
The centre is located in a private house and had been set up to tally election results from all 290 constituency centres.
Guards on duty at the premises said the gang raided the house at about 8pm on Friday and it took them almost an hour to complete their mission.
The raiders broke down and ferried away surveillance cameras, desktop computers, computer servers, iPads, and laptops.
NASA head of presidential secretariat Musalia Mudavadi branded the raid 'NASA-gate' and said they had installed more than 200 laptops and computers, which were all taken away.
"This is part of efforts by a panicking government to derail us. We have many other centres and I want to assure our supporters not to panic. Let us vote on Tuesday," said Mr Mudavadi.
Main gate
A guard who was on duty said he heard a knock on the main gate of the premises and that those seeking to get in claimed that they were police officers.
"I peeped through the hole and saw many cars, which terrified me. I ran back to the guardroom to alert my colleagues. The raiders jumped over the gate and broke the padlock, then opened the entrance for about 10 cars to get in," said the guard.
The guard said the raiders wore balaclavas and that there were three women among them.