Policeman among 9 people killed in Nairobi as video shows officers felling suspects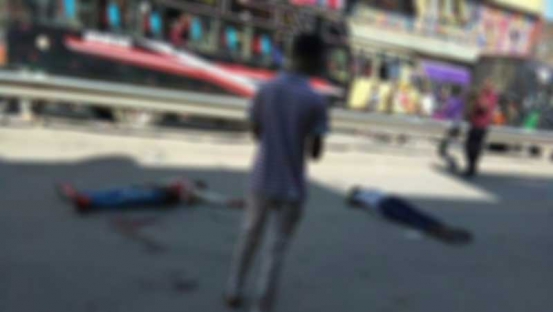 A policeman was shot dead by gunmen he was chasing in Kayole, Nairobi.
He was among nine people shot and killed in Nairobi on Friday in the war on crime. The officer was shot by gunmen who were escaping.
This came as a video emerged showing police killing a suspect in an extrajudicial manner in Eastleigh area on Friday.
Police said Constable Boniface Okech of Soweto police station was shot and killed as he and his colleagues pursued a gang in Kayole.
Okech who joined the service in 2013 was with his colleagues and had cornered suspects in a house when one of the gunmen jumped out firing and killed him. The suspect was killed by the other officers and a homemade gun with 12 bullets found on him while his accomplices managed to escape, police said.
Four spent cartridges were collected from the scene of the shooting.
Nairobi police boss Japheth Koome said the gang had been on a robbery spree before they were spotted prompting a chase that turned fatal.
"We will not sit and watch our police officers and Kenyans being killed by thugs. Tell other gangsters their days are numbered," said Koome.
In Eastleigh, two suspects were killed in what residents said was an extrajudicial incident.
A video captured by a witness showed armed police officers kill one of the suspects as a crowd watched.
The first suspect had been killed and his body was lying in a pool of blood about two meters apart before the second one was felled.
The killer officer who was in civilian pumped 11 bullets into the second suspect. He even borrowed his colleague's gun and used it to complete the mission after his had run out of bullets.
Police had been chasing the two young boys for a distance before they cornered them along the First Avenue.
The first one was killed before the second one who police termed as an accomplice was felled in cold blood.
In the clip shot from a balcony, a man is seen lying in a pool of blood on the street while another is confronted by three men, two of them holding pistols.
The video capturing the killing drew mixed reactions online with some supporting it while others termed the incident extrajudicial.
Some locals said the gang was well known and was behind a number of violent robberies in the area.
Koome said the gang was part of the members of the Superpower group that operates in Eastleigh where they terrorise locals for money.
Superpower is a proscribed gang in Kenya.
"The gang has been behind a series of many robbery incidents in the area and we have information showing they were behind the killing of three people including a police officer and physically challenged man in Kayole," said Koome.
The police boss said he stood by his officers who were behind the incident.
"We will be ruthless to gunmen who kill innocent Kenyans."
Human rights organisations have condemned the incident.
The Independent Medico-Legal Unit said the video that clearly points to an execution in cold blood.
"A uniformed police officer in jungle jacket pushes the crowd back as the execution happens seeming to indicate that the executioner might be a police officer. IMLU condemns misuse of firearms either by civilians or police officers and calls upon IPOA and IAU to move with speed to investigate alleged police involvement in this cold blooded murder." IMLU said in a statement.
Friday was busy as three other suspects were killed by police in Pangani area in a botched robbery. The suspects had been mugging and robbing residents when an alarm was raised alerting police. Police said two other suspects were killed in Utawala area in a botched robbery on Friday night closing a bloody day.
Cases of armed robberies have been fluctuating in the city with no arrest being made. Police have been reacting killing dozens of suspects in the last months.
Two weeks ago, gunmen killed a police officer and two other people including a physically challenged man in a robbery incident in Kayole. The gang also injured a woman in the incident.
To fight drought, involve communities
According to the latest information from the Meteorological Department, rainfall will be poorly distributed in April, May and June, and this will have a serious impact on agriculture