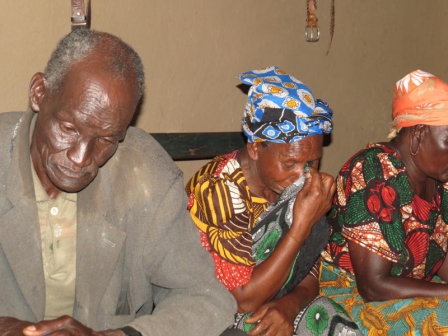 A family is seeking answers from the government following the disappearance of their son soon after police arrested him in unclear circumstances.
When Mr Daniel Baaru Nyamohanga, 33, left home in Nyabasi East, Kegonga Division in Kuria East constituency for Kehancha on January 12, 2017, there was nothing unusual.
On his way, however, he was arrested and locked up at Kehancha Police Station. The police claim they released the livestock trader a few days later but his family is yet to see him. The family and police have been giving conflicting information on Nyamohanga's whereabouts. According to his wife, Rebecca Mwita, the trader had left to buy a cow in Kehancha and carried with him Sh35,000.
He called his wife at 6pm on the same day to inform her that he had been arrested alongside other passengers with whom they had boarded a Probox matatu bound for Kegonga. Allegedly, also arrested were two women, a fruit vendor and a mutumba seller. Some boda boda operators were also held.
Yesterday, the wife said she was at Kehancha Police Station by 7am the following day to see her husband but was not allowed in. She stayed at the station up to 5pm but didn't get a chance to see him.
Read More
Gave him food
Together with her sister-in-law, Pauline Boke, they set off to Kehancha Police Station again on January 14 to see him. "I was finally allowed to see him. I even gave him food. He told me he had been arrested while travelling in a Probox alongside five others but did not know the reason," Rebecca said.
On January 16, Rebecca and family members arrived at Kehancha Police Station just in time to see Nyamohanga and the others being taken to court. However, the case never came up. "We were told they had no case and that we should follow our kin to the station because they would be released right away," she said. However, this was never to be. The group was taken back to the police station and locked up.
The following day, the suspects were brought back to the courts but Nyamohanga was absent.
"The OCS read the names of five people with whom my husband was with but his name was not mentioned. The five; four men and a lady were released by the magistrate for lack of sufficient evidence," said Ms Nyamohanga.
When she sough to know her husband's whereabouts from the five, one of them told her they had left him in the cells.
Rebecca went back to the station. She waited until 5pm to see him. "I asked him why he was not arraigned in court with the rest. He told me that when he asked for his money, Sh35,000, he was told to stay back first as the others were being taken to court," Rebecca told The Standard on Saturday. That was the last time she saw her husband.
Nyamohanga's father, Chacha Baaru was at loss for words: "As old and feeble as I am, I went to Kehancha Police Station and asked to see the OCS. He told me my son had been released. When I inquired further, the OCS got irritated and ordered me out of his office," he said, fighting back tears.
"The OCS insisted he had released him yet he never came home. Why was he not released alongside the others?" his wife queried.
One of those who had been arrested with Nyamohanga is a doctor based in Kegonga.
When The Standard on Saturday traced the doctor, he confirmed he had boarded the same vehicle with Nyamohanga the day they were arrested. "We heard gunshots and as people were scampering for safety, we were all arrested and booked at Kehancha Police Station. We were accused of attempted robbery. That is what the charge sheet read," he said.
The doctor, who requested anonymity, said on the day they were to be arraigned in court, Nyamohanga was left behind. Dausi Chacha of Kuria Social Chapter Human Rights said Rebecca visited their office and reported that her husband had gone missing from police custody. He said his office liaised with the Kenya National Commission on Human Rights office in Kisumu and sued the police.
Area MCA Benson Nyahiri said he was aware of the matter. He said when he called OCS Kiriaini Serem about the issue, the officer dismissed him.
"Did you expect us to escort him to his door step after releasing him?" Nyahiri claims the OCS asked him.
When The Standard on Saturday contacted the OCS, he said the man had been released.
"People get lost. When we release a suspect, we do not make any follow ups as to whether they get lost or reach home," he said.
On further probing, he directed us to OCPD Evans Wanyonyi, who gave a different narrative.
"He was arrested while attempting to commit robbery and was booked alongside five others. We had information that they had been involved in other robberies and murder," Wanyonyi said.
'OCS' nickname
He added that the missing man was the gang leader and his accomplices had nicknamed him 'OCS.'
"However due to lack of evidence, he was released but the five had been released earlier. We had kept him behind to allow for further investigations but we could not find sufficient evidence," he added.
Wanyonyi said he never received any complaints from the missing suspect regarding the loss of his Sh35,000, adding it may have been a theory cooked up by the family.
"The OCS told me he has established the man had inherited another woman at Kehancha town and was planning to rob someone that evening to help raise fees for the other woman's son," Wanyonyi claimed. The OCPD further claimed the man owned firearms.
The family has refuted the police claims. "He was nicknamed OCS because of his physique and how he carried himself with confidence, that is the name he has held for years since he was a young man, it is not one used by any accomplices," said the wife.
His neighbours said Nyamohanga was a forthright man.
As his family continues the search with a heavy heart, his mother Mary Robi, 57, is inconsolable. "The police should give us back our son, dead or alive," she said.