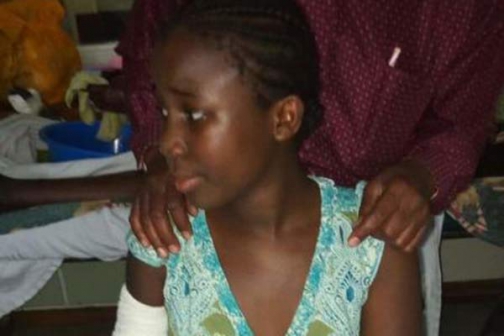 A class five pupil left her grandmother's house for Kenyatta University Primary School at 6am as usual on June 29.
For four years, Sharon Makungu, 13, has used the train to get to school. But on this day, her journey would redefine her life forever. Makungu had both legs severed by the train.
"I was with three younger girls and I let them get onto the train first," says Sharon. "It usually hoots three times to signal when it is about to leave, but on that day, it hooted only once. When I was climbing the stairs, the train started moving and I was hit by the door and fell, then it started running over me. I tried calling out but nobody heard my cry."
The train severed both of her legs and three fingers from her right hand, and it was not until the train had passed that the station master saw her. An ambulance was called and railway staff rushed her to a hospital in Ruiru.
She was referred to Thika Level 5 hospital, where doctors said her condition was too critical for them. She was rushed to Kenyatta National Hospital (KNH) where she has been receiving treatment for the last three months before she was discharged on Tuesday.
Read More
She has since moved out of her grandmother's house, where she had been living for one year, to live with her two younger siblings and mother in Kitambaa, Ruiru. Her mother, Jackline Muhongo, says Sharon's treatment has put a financial strain on the family.
She has spent Sh271,000 so far, most of which was raised through a funds drive. "I had to close down my business because I cannot leave her at any point. If I leave her it makes her feel as if she has been imprisoned, with no one to help her move around," she adds.
The case attracted the interest of Nominated MP Isaac Mwaura, who has been assisting the family since he heard about the incident. "I am shocked by the callousness that a multi-national can show in relation to an innocent little girl," says Mwaura. "Because even when they took her to hospital, they promised to pay the bill but did not."
This, Mwaura said, was a clear case of an individual's negligence. "At Ruiru, there is no proper train station and I am wondering if the case is that the train does not have any conductors who can give the signal for the train to move," he says.
However, Rift Valley Railways denies the allegations and says they were not responsible for the accident. They gave a different version of the story, saying Sharon had been late that day and actually ran after the train after it had already started moving, tripped and fell and consequently got her limbs severed.
Compensation push
The firm says ticket collectors usually guard the door to ensure the pathway is completely clear before the train leaves, and that it hoots thrice as a warning, which it did that day contrary to what Sharon says.
Mwaura has vowed to push for compensation from the railway company and will be presenting the issue to Parliament, he says. "This girl, from a poor background, is now disabled for the rest of her life, yet they have not started the compensation process from their insurance," he says.
RVR Group Chief Executive Officer Isaiah Okoth counters that despite them not being fully responsible for the incident, they have been trying to help Sharon through the ordeal, but that their decision to remedy the situation should not be viewed as admission of guilt.
"Our people have been visiting her in hospital (Sharon says this was only twice) and I have personally sat with her and discussed how we can bring in the grandmother and help her attain normal life," he says. He accuses Mwaura, who he says has threatened to sue them, of politicising the issue.
"The hospital bill was not given to us but to the parents, and they did not approach us. It would have been fair that whoever got the bill first informs the next person. She could have approached RVR before even doing the harambee and asked what we could do to help," says Okoth.
Sharon's mother, Jackline Muhongo, however says she tried to get RVR representatives to help her reach the people in charge but she was made to wait with no response.
Okoth, however, says the blame game should stop and the focus should be on getting the girl better. "The next thing that needs to be done, and we are working on it, is to ask the girl to go to a doctor and get feedback in terms of the disability level. We will then submit those documents to our insurance."
Meanwhile, Sharon has been transferred to Matopeni Primary School, which is nearer her home but has not been able to attend due to her ongoing treatment. "I was hard working but now I cannot walk, my fingers are gone and I cannot do most of the things I loved doing," she says. "But I hope I get artificial limbs. I will be ok."