Congolese musician Koffi Olomide arrested in Nairobi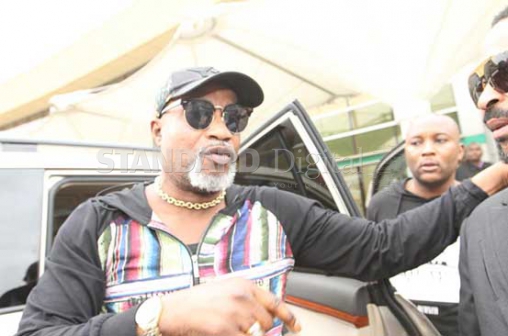 Congolese musician Koffi Olomide has been arrested for assaulting a lady at JKIA after Police Inspector General Joseph Boinnet ordered airport police to take action.
Olomide was arrested Friday night after a live TV interview with one of the leading TV stations in the country.
This is after a video went viral on social media showing how the Congolese musician assaulted a woman at JKIA on arrival in the country.
The Congolese Rumba maestro Koffi Olomide landed in Nairobi 6am Friday morning for his much-anticipated Bomas of Kenya concert.
Accompanied by a team of six, the celebrated star landed at the Jomo Kenyatta International Airport to a glamourous welcome by a group of Kenyan fans who had gone to receive him.
There was a little drama at the airport as Le Grand Mopao, for that is how he is referred to as by many, engaged in an altercation with one of his dancers. The dancer is said to have reacted negatively to a request by Koffi's wife Cindy who is in his company.
Koffi, who was captured in camera telling the dancer off was calmed by police officers at the airport before he was shown to his car that immediately sped off.