Kenya: Interior Cabinet Secretary Joseph Nkaissery orders Senator Johnstone Muthama to record statement with CID over CORD rally remarks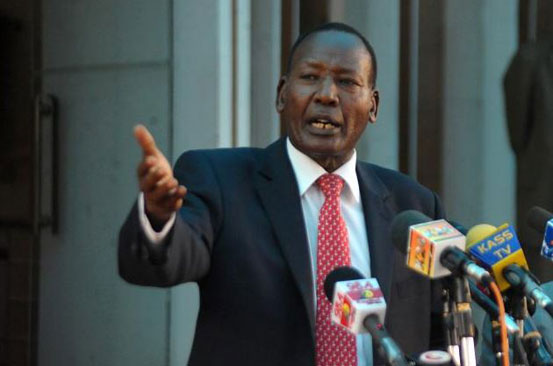 NAIROBI: Interior Cabinet Secretary Joseph Nkaissery has joined those calling for the grilling of Machakos Senator Johnstone Muthama over alleged incitement.
Nkaissery wants CID to grill the senator on claims remarks he made at Uhuru Park calling for unconstitutional change of government.
The CS also claims Muthama accused President Kenyatta of interfering with constitutional dispensation of Burundi and that his statements undermine the authority of a public officer.
The minister claims the statements are obscene and indecent and undermine NCIC Act on his remarks that the president is out to ensure children of the poor continue to suffer in poverty. A section of TNA MPs have also called for questioning of the Senator.
"The pronouncements are choreographed to stir up ethnic hatred against the president in view of his purported preferences. Given the implications of these statements for fracturing the society, I expect the National Cohesion and Integration Commission as a matter of urgency, commence investigation on each of these and any other claims and allegations made that impact negatively on the efforts to enhance national cohesion and integration of Kenyan people," he said.
Nkaissery said Muthama has made a habit of verbally attacking state officers in a matter that is intended to undermine cohesion and national unity for political gain.
He argued his remarks brings disrepute to the president, undermines cohesion and stability of the country with the potential to cause uncertainty, tension and threatening national security.
"It is therefore imperative that investigations into the speech and its intent begin in earnest. Senator Muthama should immediately record a statement at the Criminal Investigation Department," he said.
Muthama made the remarks on Wednesday during a rally by the opposition to push for the payment of teachers who are on strike.
The opposition says the move to focus on Muthama remarks is aimed at swaying public attention from corruption issues and the teachers' strike. Public schools have been closed over the strike.