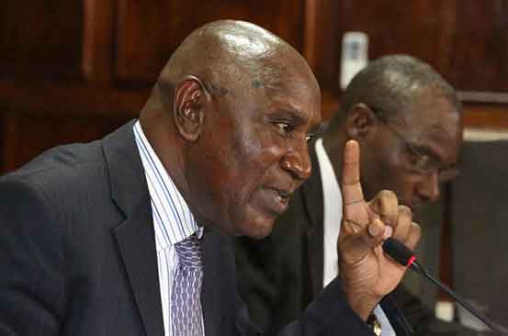 KISUMU, KENYA:
Kisumu County is on the spot over millions of shillings reportedly lost through unclear cash transactions, according to the latest released 2017/18 financial year audit report. The Auditor General's,(AG), report for the year 2018 under review, established some contractors were paid millions for services not rendered or work not done. According to the findings by the AG Mr. Edward Ouko's office, some of the County funded projects were only complete on paper and not physically on the ground. And statements of financial assets and liabilities as at June 30, 2017, receipts, payment vouchers, bank statements for the period under review did not match the cash allocated.
SEE ALSO: Man kills daughter after boyfriend's sleepover
The Audit released in Kisumu by the AG's office revealed the County Authorities were either not keen on follow up of the projects hence reportedly paid for works not done. The AG's team led by Finance Executive CPA, Peter Ndungu and Dr. Wilfred Marube, Head of Public Relations and Manager Communications Mr. Peter Opiyo released it. The AG noted physical verification of the projects on the ground and bank statements detailing assets and liabilities did not reconcile in line with the Public Audit Act, 2015. For instance, as of June 30, 2017, the County's book balance reflected only Sh1,359,986,921, yet from the Audit review, record supporting this was not availed. Similarly, the Auditor notes Bank Reconciliation Statements for six Bank Account with Balances amounting to Sh19,887,952 were not availed for audit review.
SEE ALSO: Man held for killing daughter, 15, for spending night out
A report by the National Treasury dated November 13, 2017, also indicated that Kisumu County operated 112 Accounts in different Banks. ''The County Executive operated 112 Bank Accounts some of which were not disclosed in the financial statements,'' the audit revealed. They were Central Bank, (two), KCB, (93), Cooperative Bank(10), Equity(3), Family Bank(3), and Diamond Trust Bank(1). Audit analysis showed the County Executive did not carry out Bank Reconciliation statements in the IFMIS for all the bank accounts. Instead, bank reconciliations were done out of IFMIS, according to the AG's report that also queried the financial prudence of the County attributed to careless spending.
SEE ALSO: County earns Sh8 billion from State, donors for key projects
''So the accuracy and completeness of the KCB balances of Sh1.359,986, 921 billion as at June 30, 2017, could not be confirmed as fairly stated,'' the Auditor notes disclosed Statements of financial assets and liabilities reflected a balance of Sh92,916,431 relating to deposits and retention had no documents to support the book balance. Further, the Public sector Accounting Standards Board reporting templates require that assets and liabilities be disclosed in financial statements. But no outstanding deposits and retention balances of Sh93,910,431 million as at June 30, 2017, could be verified.