Bashir rushes to the rescue of Machar in remote DRC town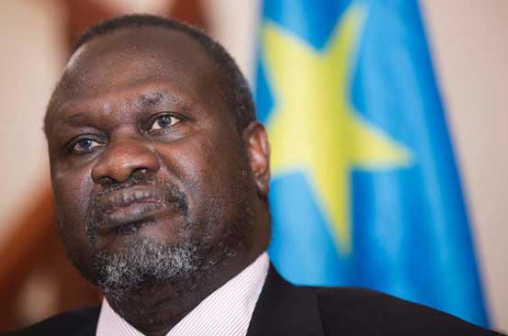 Details have emerged about a mission to evacuate wounded South Sudan rebel leader Riek Machar from his reported hideout in a remote town in the Democratic Republic of Congo.
Yesterday reports indicated that Sudan President Omar al-Bashir's government had dispatchedan aeroplane to rescue Dr Machar.
Machar has been stranded in DRC in a place called Dungu after he ­fled South Sudan. The runaway VP has been holed up there with a Brigadier Simon Bangong and 100 soldiers for several days.
There are reports that there were plans to evacuate him to another country on Wednesday but the move failed as it was dark by the time hired helicopters arrived at Dungu. He was reportedly moved to a small town named Isiro along with a few of his soldiers. Isiro is about 200km south-west of Dungu.
But yesterday, an official informed The Standard that a large transport plane, suspected to be an Antonov, landed at Isiro with Sudanese military officials and commandos who received Machar from unnamed UN officials at the local airstrip. Some reports indicate a top official from Khartoum's presidency was on the plane.
Accounts of Machar's desperate pleas in DRC emerged on a day his spokesman James Gatdet Dak confirmed that the former South Sudan first vice president had left the troubled nation.
"President Salva Kiir's forces have been hunting him so for his safety he decided to relocate," Gatdet Dak said, adding that his new location would give him "access to the rest of the world and media" to explain his position, according to Reuters yesterday.
Reports, which the UN has declined to discuss, indicated the UN peacekeeping mission in the East of the DRC had a role in Dr Machar's evacuation bid, apparently in conjunction with officials in Nairobi.
Diplomatic sources indicate Machar established contact with the UN peacekeeping force in the DRC or MONUSCO for evacuation out of the vast Central African nation after talks with the Congolese military but due to the darkness, helicopters sent from Goma in the eastern part of DRC only managed to transfer Machar and some of his entourage to Isiro.
Although Reuters quoted Gatdet saying that Machar left South Sudan on Wednesday, The Standard has established that the deposed leader and his entourage entered Dungu through Maridi on South Sudan's border with the former Zaire around August 12.
Reports indicate Chad asked Kinshasa to allow Machar to enter the DRC apparently with the support of the Sudanese government but Congolese military intelligence officials handling the matter considered it too risky in military and diplomatic terms for their forces to move to Dungu, prompting Machar to appeal to MONUSCO through an old contact in the UN.
"The Congolese government thought it was too risky for their forces to reach Dungu and Dr Machar suggested that MONUSCO could assist him," said a diplomatic source.
Other reports indicate besides requesting medical assistance, Machar, who was wounded in the leg, also sought military assistance and food from the Congolese government.
The source further indicated the Congolese military intelligence with knowledge of a MONUSCO contact initiated a plan to reach Machar in Dungu using a Congolese official based in Nairobi who was tasked to send a Kenyan with an aircraft to the remote town.
This plan appears to have been abandoned for helicopters deployed from Goma on Wednesday evening but which could not fly out of the DRC because it was dark.
Still on Wednesday evening, an alternative plan was mooted to evacuate Machar to Goma where a helicopter with Congolese and Sudanese military officials and unspecified supplies were expected before flying out of the DRC.
When rescuers found Machar and his entourage at Dungu, he was also down with fever with a swollen ankle following days of almost non-stop trekking.
His entourage had run short of food and medical supplies and they was surviving on wild game meat and fruits harvested from the forested surroundings which border the Garamba National Park.
Sources told The Standard last evening that Machar's entourage had walked for days after crossing the border with South Sudan at Maridi to enter Dungu which lies about 90km from the international boundary.
Before entering DRC, Machar's forces are reported to have come came under aerial bombardment from helicopters and ground fire and they ran out ammunition.
Inside the DRC they took to the forests and moved constantly in fear of ambushes in an area with many militias.
"When Dr Machar's team established contact with Congolese officials the first thing they asked for was food, energy supplements and medicine. They also asked for ammunition," said an official familiar with the rescue efforts.
"Because of Dr Machar's medical conditions, they were unable to move for more than 2.5km a day," said the official who cannot be named.
The official informed The Standard last evening that a large transport plane, suspected to be an Antonov, landed at Isiro with Sudanese military officials and commandos who received Machar from unnamed UN officials at the local airstrip. Some reports indicate a top official from the presidency in Khartoum was on the plane.
Reports of Machar's tribulations in the DRC came at a time his former chief negotiator Taban Deng Gai, who replaced him as VP last month, was visiting Kenya.
Mr Gai warned Machar against attacking Juba. "I am cautioning him that the idea of marching to Juba with his troops doesn't look good. If he marches to Juba, the forces protecting the city will be ready to deal with him," he said.