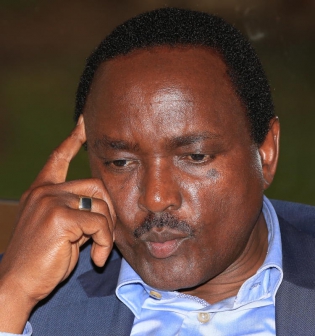 Today the subject of my pen – which some people call acerbic – is the enigmatic Stephen Kalonzo Musyoka, the son of Mairu. Kalonzo is one of the only duo of the top self-made political mandarins in Kenya. The other is the irascible William Ruto, the country's numero dos.
But of the two, it's Kalonzo who is more intriguing, and has a better chance of snatching the State House. In my book, Ruto has zero probability – even possibility – of ever occupying Kenya's most famous address. But let me not muddy Kalonzo's day by conflating him with Ruto.
I will tell you why Kalonzo, not any of his CORD co-principals, or Amani's Musalia Mudavadi, may be the one.
First, Kalomzo is one of the most honest politicians in Kenya. You will notice that I didn't say he's one of the most honest people in Kenya. I've only compared him to his species – other politicians. But that's saying a lot because Kenyan politicians are a lying bunch. Nor has Kalonzo – like his fellow politicos – looted gazillions from the public till.
But let me also be clear – he isn't a poor man. No one in Kenya gets to the top of the political chain without picking up a few morsels from the master's table. This much is fact – Kalonzo is the poorest of the top dogs in politics. That distinction should stand him in good stead.
Second, Kalonzo wasn't born with a silver spoon in his mouth. Unlike Jubilee's Uhuru Kenyatta, the scion of Mzee Jomo Kenyatta, or Raila Odinga, the offspring of Jaramogi, Kalonzo brought himself up by his bootstraps. We know Mudavadi is heir to his father's wealth and pedigree.
Only Ruto, the self-described chicken hustler, can hold the candle of humility to Kalonzo. In a country obsessed with the names of home-guards and independence-era looters, we must admire those who came from "nothing." Of course, we must understand that growing up in poverty isn't a cleansing agent for good leadership. If that were the case, Mzee Kenyatta would've ruled like the iconic Mother Teresa.
Third, I suffer no amnesia about Kalonzo's peasant cunning. But that's a double-edged sword. It's both an asset and a liability. He used that servile fearfulness to endear himself to the late Mulu Mutisya, the illiterate Kamba political go-between. It was Mutisya who brought Kalonzo to President Moi and the Kanu hierarchy.
That's how Kalonzo carved for himself the then elusive title of the Kamba baron. It's a mantle he's used to his own personal political aggrandisement. But it was also the same cunning instincts that led him to split the opposition vote in 2007. He got the vice-presidency and legitimised a stolen election. The country was plunged into damnable genocidal violence.
Fourth, unlike Raila, Kalonzo has not been demonised as a menace to the other major ethnic groups, especially the Kikuyu and the Kalenjin. If anything, he suffers the reputation of being a "watermelon" or a chameleon. The tag of betrayer has hurt him.
But in his defence, I will argue that label is unfair. Show me one politician who's not a serial betrayer, and I will show you a liar. Political infidelity is the sauce of Kenyan politics. Mudavadi, the other indomitable opposition figure, also has a Musyoka problem. There are those who question the stiffness of his political spine. Kalonzo's autobiography – Against All Odds – reveals a tougher resolute figure than we've been led to believe.
Fifth, Kalonzo's ethnicity is opportune. Don't get me wrong – all ethnicities are right, but some are more opportune than others. This is true in realpolitik. Kenya's ethnic divisions will only heal if we use merit to pick our leaders, or rotate the presidency among various groups. The former isn't about to happen tomorrow. So, the latter must be deployed.
I would argue that one of the three top opposition leaders – Kalonzo, Mudavadi, or Raila – would do more to lance the boil of ethnic grievance in 2017 than returning Kenyatta to power.
Of the three opposition doyens, Kalonzo may be the least toxic. That's a low bar, but you can't wring water out of a rock.
Finally, Kalonzo has an impressive foreign policy portfolio. At a time of global uncertainty, he would bring a trained eye to geopolitics. Of course Raila would also be an asset internationally.
But Kalonzo is the most seasoned diplomat running for State House. That should count for something. The only question is whether Kalonzo can wrest the flagbearer's mantle from Raila, the prohibitive opposition favourite. In politics, you get nothing for nothing except nothing.