Unity against Valentine's only as strong as the weakest man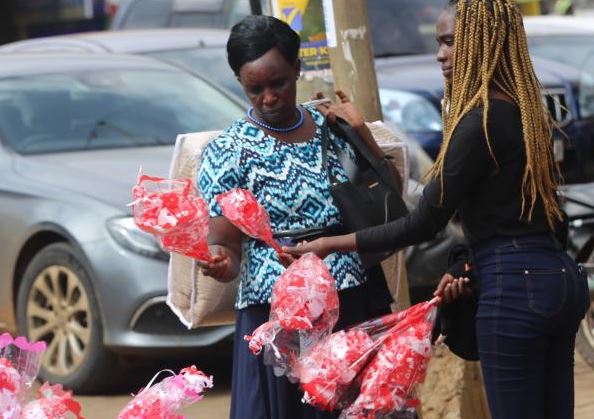 Valentine's Day is one of the most celebrated holidays, often attracting more attention than some of the biggest religious festivals.
For people in love, it is, literally, a red-letter day. Flower vendors salvage their finances on this day as smitten lovers splash money for the beauty and fragrance of roses, which wither within the night.
And every time February 14 approaches, conspiracy theorists, most of them pushed to the edge by financial woes and are keen to escape the market, rally against proponents of Valentine's Day.
In the ensuing battles that decorate social media pages, Kenyans derive entertainment.
"If you are thinking of disappearing on Valentine's like my brother and I, then start early planning," a Twitter user wrote yesterday. "Options: Start that farming project before Saturday, away work starting Friday, get sick starting Friday, still get very stressed from Friday, etc. Don't wait till Sunday."
The so-called Men's Conference, a fictional meeting where men who intend to be away from their wives and girlfriends can brush up on tactics of how to dodge the day's responsibilities, has been a trending topic on social media platform for days.
Imaginary group
The forum features as its key speakers men who can be identified as either radicalised or who are chauvinists. Or who are openly miserly. It is an imagined event, and yet it dominates social media talk.
Only recently, an imaginary group called Stingy Men's Association was launched and virtual membership cards issued. Its slogan is: I will see what I can do.
But what stands out for, or probably against, this year's Valentine's is that it falls on a Sunday. The excuses flooding social media sites indicate many men have suddenly decided to reunite with their religious roots, most of them having ditched the church as teens.
But pastors should expect bigger congregations tomorrow, and ushers should start procuring additional seats because men have made it clear that they will be seeking God, and that they will not be tempted by the pleasures and treasures of this earth.
They might not contribute to the weekly tithe, though. They are in church to avoid spending.
There are those who are trading political barbs, such as Gabriel Oguda who, in a hilarious post, after the Baringo County MCAs disagreed over the Building Bridges Initiative referendum Bill, tweeted, "BREAKING: Baringo County MCAs reject the Valentine's offer of 2 Million car grant, says they're okay riding to work in an Oldowan Wheelbarrow as everything is vanity."
And others are trading barbs, telling off wannabe suitors in a season when the red of roses fill the ground when daggers are drawn.
"Before you send me that 'Valentine's is coming where is boyfriend video', remember I had a choice between you and loneliness and guess what I went for" wrote one Kiki on WhatsApp.
Gender debate
But there is a bigger debate this time around on the dos and don'ts of each gender, and their responsibilities towards each other ahead of Valentine's. This, in a few words, means to many an expression of a man's love to his woman and rarely the vice-versa.
Social media is full of proponents and opponents of 'toxic masculinity', often veiled in other names and splashed with sweeteners to move the discussion without making it look odd. Or inappropriate.
Economist David Ndii stirred the waters three days ago Valentine's with a series of tweets that have gone viral. "Who is lying to young men that toxic masculinity is an African cultural badge of honour? If you expect you can date a career woman, marry and next day you'll be putting your feet up as she keeps house, you are delusional. You have serious self-esteem issues to deal with," Ndii wrote.
"Even my mother who is close to 80, let alone my wife, was never a housekeeper. I cook more often than my wife does. My father cooked. My grandfather cooked. Idiots. Go to the village or ask your aunties to find a class 8 graduate bimbo you can impress with your mtumba Toyota."
This debate is sure to continue until maybe after Valentine's. What should men do and what should they not do for their lovers?
In support of Ndii, Mwalimu Wandia Njoya wrote, "The "housewife" model came from colonial education. They were educating girls to become suitable wives for the African men graduating from European schools."
The norm is for the man to buy flowers and other gifts for his valentine. To remind her that he cherishes her, that she is lovely, and fragrant, and priceless.
And, though the years fly and she gets older, and the smooth skin is replaced by barely attractive wrinkles, she is ageless.
But questions are raised all the time. In the quest for equality, often championed by human rights activists and feminists, women are claiming an equal share of roles and benefits. So, should the men expect flowers from their women? Should men sit and wait for the ladies to pay the bills?
The Men's Conference, which supposedly runs until maybe the 15th, seeks to answer most of these pertinent questions.
The boy child has never been more united than in the fight against a love holiday. But the unity will fade away just as it came, silently but there will be many casualties.
CAS leads youth in pushing BBI
Under the name Young Turks Handshake Alliance, the group said they had a strategy to create a 10-million-strong network of committed youth