Sunday Magazine
In the past few months, there have been very worrying reports about students engaging in alcohol, group sex and truancy.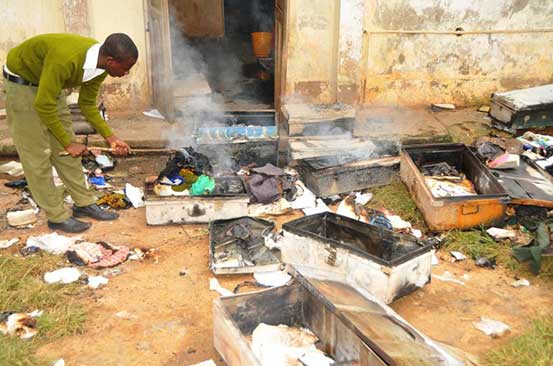 NAIROBI:
In the past few months, there have been very worrying reports about students engaging in alcohol, group sex and truancy. Parents, teachers, and the society at large are deeply concerned about this "spirit" of depravity that seems to assail Kenya teenagers. Many will be heard comparing their own teenage years with today's generation, remarking just how much today's teenager is a different breed from that of yesteryear. What with the influence of mobile phones and the internet?
SEE ALSO: PHOTO: The only Kenyan Cristiano Ronaldo follows on Instagram
I am not just talking about the ease with which today's teenagers engage in acts that make us cringe, or the confidence with which they carry themselves as they do such incredulous things. I am thinking about the fact that today's teenagers and young adults do not know the meaning of the words "respect", "discipline" or "industry" mean. Their world begins and ends with head/ear phones, smart phones, Instagram and Facebook. Today's youth do not seem to understand what it means to respect their elders and they will easily talk back to their seniors. Giving up seats in waiting areas or even in homes is an alien thought to them. Young people today do not have the patience to read a book and some would rather photograph class/lecture notes with their mobile phones instead of taking time to write them down.
SEE ALSO: Kenyans find entertainment in twerk contests and late night shows on Instagram
Kenya's young men and women are slowly degenerating into monsters; terrorists. We have a big problem and it cannot be left to teachers and parents alone to address. We cannot wish away the internet or the availability of alcohol and other drugs but perhaps, just perhaps, we could retrace our steps and find out, in Chinua Achebe's words, where the rain started beating us. I propose that we start by looking at our education curriculum. I am convinced that when the 8-4-4 system was conceived, drafted and implemented none of the experts thought that we would gradually lose the very group of people for which it was intended — the Kenyan children. In its early years, the system offered an array of subjects including Art and Craft, Home Science, Geography History and Civics, Agriculture, Music, Woodwork, Metalwork, and so on. Over the years, unfortunately, many of these subjects have been dropped from the curriculum such that only five subjects are examined at primary school level. Kenyans who studied these subjects will remember building grass-thatched huts, making wooden chicken feeding troughs and stools, molding bricks, knitting socks, sewing dresses/shirts, baking cakes, planting cabbages and other such activities, all as part of the curriculum.
SEE ALSO: Maina Kiai on oversight body to regulate Facebook and Instagram content
Proponents of the current curriculum, and students definitely, will argue that these activities were a waste of time and effort. After all, who lives in grass-thatched huts anymore? Plastic chicken feeding troughs are easily available, birthday cakes are ordered online, and clothes and vegetables are easily found on supermarket shelves. Yet, I believe there was some very tangible experience to be acquired in the process of learning how to knit a sweater, wash it in lukewarm water, and place it on a newspaper under a shade to dry. It was very inspiring to be responsible for a number of rabbits or to prepare a patch of earth and watch as seeds sprouted and grew into food on the plate or to wear a pair of thick socks that one had patiently knitted. We may not have grown up to be musicians, but it was a rewarding experience learning how to get fresh hide, peg it to dry and make a drum with it. We made the wandindi and the nyatiti and sharply drew the G-clef and the F-clef. I did not become a carpenter but I know the difference between a dove-tail and a tenon joint. Although the use of the internet was still years away, it is not that alcohol, drugs, sex, and other such attractions were not available then. However, the Home Science, Social Ethics and Religious Studies teachers were so committed to their work that the lessons they instilled in the students were taken very seriously.
SEE ALSO: Maina Kiai joins 20 others on Facebook board
Today, Geography, History and Civics books have been revised to focus more on Kenya and her counties, but there was something quite fascinating about listening to the teacher talk about cocoa in Ghana or the slave trade on the East African coast. In any case, students have not mastered the history and geography of Kenya even with the narrowed syllabi. Just a few years ago, talking back to teachers or disrespecting any adult was unthinkable and the consequences so dire that one would rather sit in a heap of stinging nettle. Today, however, teachers can bear me witness that their students have become little devils. This situation has been made worse by tough-talking parents who will sue anyone who dares point at or cane their wonderful children, and private school/college entrepreneurs who refer to students as "clients." We are rearing snakes and they will turn around and bite us.
SEE ALSO: Kiai joins 20 others on Facebook board
We have narrowed the curriculum so much that we are producing only examination-passing creatures but not human beings. We have successfully shown students/pupils that what matters is not the learning experience but the number of As they can bring home. The result? They seek other avenues of keeping themselves busy and breaking the monotony of schoolwork. Note that the activities on their to-do lists have nothing to do with preparing a meal, doing laundry, cleaning their rooms, or, surprisingly, reading. One would therefore understand why we have young men and women with First Class degrees in management but who cannot manage anything. Why then do we act surprised when we find teenagers in nightclubs or associating with dubious characters in dubiously named and branded matatus? Aren't we the ones who have allowed them too much free unsupervised time? Haven't we taught them that it is enough to bring home an A even if one does not know how to boil an egg or respectfully ask for directions if they are lost? How will they exercise their brain if everything is bought for them from supermarkets — balls, hoops, skipping ropes — or when the most tasking game they can play is on the computer? While education is supposed to produce wholesome human beings, the current system has, unfortunately, ended up producing dehumanised characters. If we want to (re)humanise our youth, let's bring back the "artsy" and "crafty" subjects that made us who we are!
The writer teaches Literature at the University of Nairobi. [email protected]