Raila must go beyond attacking Ruto to win over young people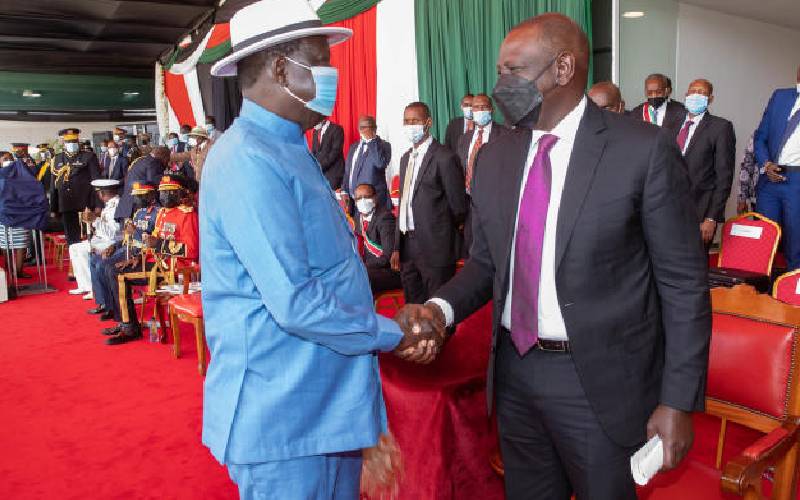 Raila Odinga's candidature in next year's presidential election is now fait accompli. It was plain to all but the most dull-witted, that the perennial contender would make yet another stab at the presidency. What isn't so obvious is that his election would represent a continuation of President Uhuru Kenyatta's chequered run.
Chequered if one considers the president's policy of looking East. For every big-ticket infrastructural project funded by the orient, there is a tale of local contractors whose firms have collapsed; who have been robbed of every opportunity to build the nation by their Chinese counterparts who hog all but the most menial jobs.
Certainly, disastrous when grand corruption is a national pastime and that even the president himself seems helpless to confront.
Odinga has made "Ruto-bashing" the centre-piece of his campaign. At every turn and opportunity, he has sought to paint the deputy president as the "Lord of corruption." Constantly questioning the sources of the latter's massive campaign kitty, he insinuates that he is responsible for the country's current economic woes.
Odinga and Kenyatta have, at various times, been close allies of the DP. Then, Ruto was considered lily-white and indeed, a very necessary part of the ascension of both men to high office. Until the "Handshake" between Kenyatta and Odinga, the president and his deputy enjoyed a cordial relationship.
The Handshake may have appeared propitious, even necessary for a much-needed atmosphere of peace after the fractious confrontations of 2017. However, time has revealed it to be deliberately designed to enhance the electoral fortunes of the former PM. Certainly so when contemplating the assiduous manner in which Odinga's competitors have been defanged using State resources.
To be fair to Odinga, he hasn't always been a beneficiary of State largess. If anything, he has been a victim of government reprisals against agitators of the Second Liberation, suffering a lengthy stint in detention without trial. Odinga does not possess the gift of the gab.
He is not renowned for clever rhetoric or repartee. But what he lacks in witticisms, he more than compensates for by strong convictions that express themselves in a messianic fervor.
And that is precisely what Kenyans have needed; ideas that they can believe in, hold on, live and if necessary, die for, all of which Odinga has previously embodied.
His dalliance with the Jubilee administration, arguably independent Kenya's most corrupt, threatens to sully that reputation. The endorsement of those who would be mere asterisks in the nation's history brings him down to their level, as though they were all pockets of the same pants.
Yet without that endorsement, Odinga's presidential bid is dead ab initio. Even as he rails against the DP's mysterious deep pockets, he himself must recourse to the billionaires behind the Mount Kenya Foundation (MKF). He must sacrifice the free hand he has always had and settle for a script that involves vituperation against the DP.
Could it be that Odinga has finally lost his mojo? Have the punitive years in detention and the ravages of age and ill-health exacted their toll on him? For sure, he would need to move beyond ad hominem against the DP to create traction among the youth who cannot identify with his reformist credentials.
He would need to move outside the shadow of the elitist MKF to avoid the Hustler-vs-Dynasty pitfall created by the DP. And he would need to provide a more credible raison d'etre for his presidency than the fight against corruption.
He would do better to aim at the economy-wide problems that are holding the country back; the egregious share of national revenues that go towards paying debt, pulling back the country from the precipice of debt distress and restoration of the rule of law, so far, eviscerated by his benefactors who have excelled at disobeying court orders.
Let Odinga provide more compelling reasons for his candidature. Fighting Ruto is not enough!
Mr Khafafa is a public policy analyst