Goat meat, honey and cold beer: Njonjo's secret as he turns 101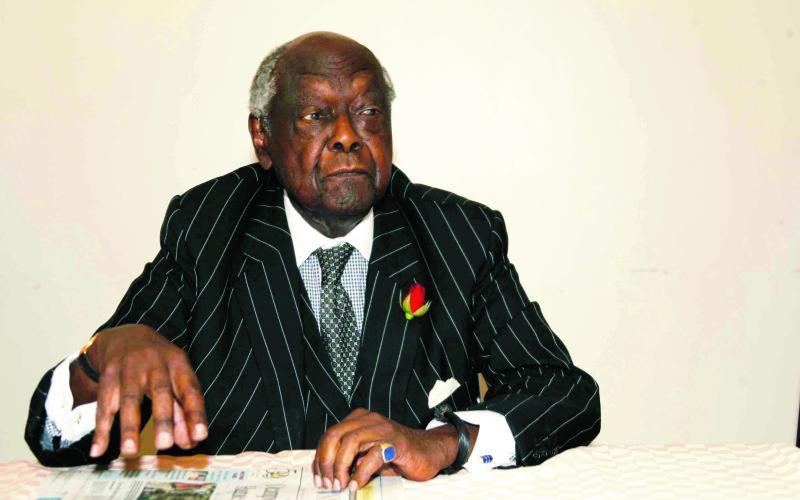 Kenya's first Attorney General, Charles Mugane Njonjo has a healthy appetite for a 'slow-cooked' leg of lamb and a bottle of Tusker Light.
According to his son-in-law Volker Bassen, goat meat is cooked in an oven for close to three hours before it is served to former Justice minister who celebrated his 101st birthday yesterday.
Bassen also said the old man's meal is not complete without honey on the table. Also on his list of favourites is goat yoghurt dessert.
Yesterday, due to the prevailing Covid-19 pandemic, Bassen said Njonjo chose to celebrate his big day with only family members at his Muthaiga residence in Nairobi.
Last year, when he clocked 100 years the family flew out to Uganda to celebrate. After the celebration, he went on gorilla tracking at the expansive Mgahinga National Park in Uganda.
Mr Bassen who is married to Njonjo's firstborn daughter Wairimu, told The Sunday Standard that the family is not taking anything to chance, and decided not to go big on his birthday.
"Today (Saturday) Mzee is flanked by his wife, Margaret, children David and Mary only," Bassen said.
Wairimu, who is a lawyer, just like her father, is holed up with her children in London due to travel restrictions occasioned by Covid-19.
Last year, Njonjo celebrated his birthday at Mgahinga Gorilla National Park where he spent time tracking gorillas.
"I was at King's College Budo and went there with King Freddie (Kabaka Edward Mutesa I). I am very fond of Uganda. I was lucky to see gorillas, two young ones and two big males," Njonjo said at the time.
The Duke of Kabeteshire, as he is popularly known thanks to his English mannerisms, remains fit despite his age thanks to his frugal fitness regime and healthy eating habits.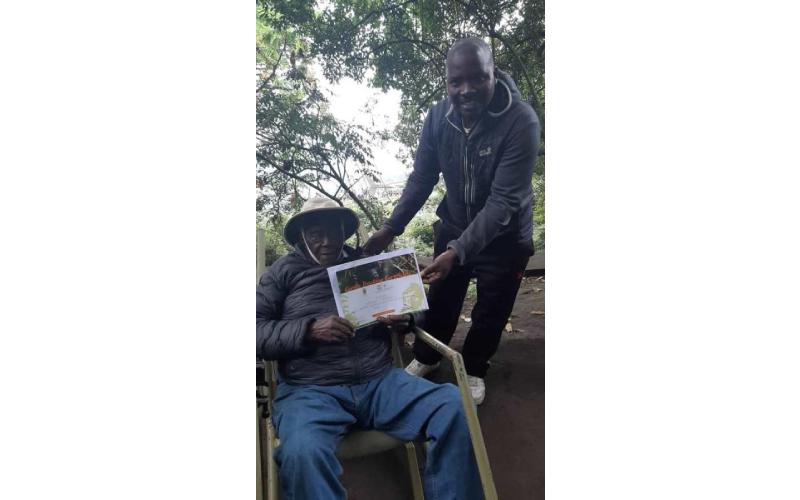 Until recently, he even used to drive his Range Rover to the office where he sat on his desk working for hours.
He, however, likes two malt lagers before retiring to bed at 8pm.
Today, Njonjo takes a cup of tea and two slices of bread in the morning, and lots of fruits and vegetables for lunch and supper. He never eats nyama choma.
"I look after myself. I swim daily, I used to do 12 laps, now I do only seven. I also have a bicycle which I ride for 10 minutes daily. I also hit the treadmill for about 10 minutes daily. I'm also careful about what I eat; I don't eat nyama choma, I eat a lot of veggies," he once revealed.
Njonjo attended Exeter University and later, the London School of Economics (LSE). Before going to the UK. He attended a pre-university at Kings College, Bido in Uganda and South Africa University.
Legal advice
He remained a bachelor till the age of 52 after President Mzee Jomo Kenyatta insisted that he settles down, saying he felt uncomfortable taking legal advice from a bachelor.
The Alliance High School alumni is known for donning black striped suits worn with a fresh rosebud on his lapel with the inscription 'CN'.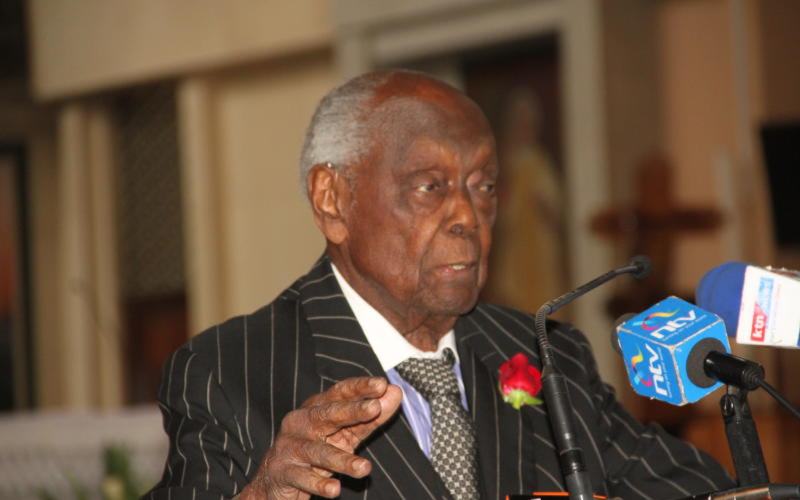 After his studies in the UK, he returned to Kenya in 1954 and secured a job as a High Court Registrar. Later, he was promoted to Registrar General, then Senior Crown Counsel in the AG's office.
In 1962, he rose to become Deputy Public Prosecutor and after independence, Mzee Kenyatta appointed him Attorney General, a position he retained after the president died in 1978. Moi later named him minister for Justice and Constitutional Affairs.
Legend has it that Njonjo used to sip lunchtime champagne while walking barefoot in Kenyatta's office at State House.
Seeking to overthrow
Njonjo fell from grace when he was found guilty by a commission of inquiry of allegedly seeking to overthrow the Moi regime in 1984. Moi, however, pardoned him.
Some have attributed Njonjo's longevity to genes. His father, Chief Josiah Mwangi, was in his late 80s at the time he was being subjected to the "traitor" probe while his sisters also sampled ripe old ages.
At the height of his power, he is remembered for nipping the bud attempts by the 'Kiambu Mafia' to change the Constitution to bar then Vice President Moi from automatically succeeding Mzee Kenyatta in the event of his demise. He decreed that it was a treasonable offence to even imagine the death of the president.
According to Moi Cabinets: Drama, Intrigues and Triumphs, a publication of the Kenya Yearbook Editorial Board, Njonjo wielded so much power that he often rode in the limousines of Presidents Kenyatta and Moi, and even participated in selection of ministers, ambassadors and other key members of government.