I do not give my wife money and she is okay with it, officer tells vetting panel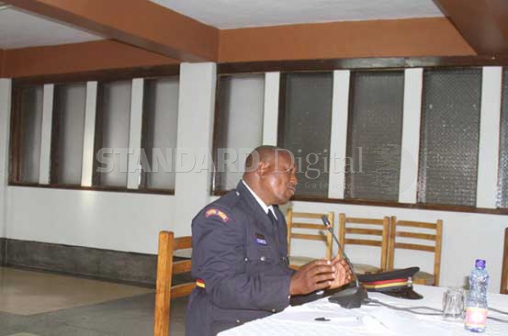 A traffic officer amused the police vetting panel by claiming his culture does not allow him to give his wife money.
Constable John Maritim told the vetting panel chaired by National Police Service Commission Chairman Johnson Kavuludi that he only provides necessities for his wife and not cash.
"My wife does not have a bank account. I only give her money for upkeep because I am a Kalenjin man," said Martim during the vetting.
Maritim told the panel that his wife was only managing his farm on his behalf and cannot take money from the sale of farm produce, a confession which shocked the panel.
He went on to say he has constructed a good, self-contained house for his wife and that she lives a decent life.
Wells spoken
Fransisca Kamuren, a member of the Nakuru County Public Service Board, told the officer that the kind of statements he was making were likely to discourage young women from getting into marriage.
The panel commended the officer for his good command of English, which was a breath of fresh air given that his colleagues could barely express themselves in the Queen's language.
However, he said his English would have been much better had he had joined secondary school saying he dropped out after sitting for is Certificate of Primary Education (CPE).
"I couldn't join secondary school due to financial constraints. However, I am happy to have paid school fees for my younger siblings," he said.
Another officer, John Ong'ore Mikhail, had a light moment during the session when he asked to sing a song he composed for the chair of the panel, Mr Kavuludi.
Mikhail said he was happy to meet Kavuludi whom he last saw in 1989 while studying at Oriwo Boys in Homabay County and Kavuludi visited the school in his capacity as the then District Education Officer.
He said he was an entertainment prefect at the school and when he heard Kavuludi was visiting the school for an education event, he decided to compose a song for him.
"I remember when you were the DEO, I composed a song for you, kindly allow me to sing a verse," he said, going on to sing a verse praising Kavuludi's job as an education official.
Kavuludi was visibly impressed by the officer.
Origi is part of the team– Okumbi
Harambee Stars coach Stanley Okumbi says Norway-based goalkeeper Arnold Origi is still in his plans despite the player failing to be called up for international matches.