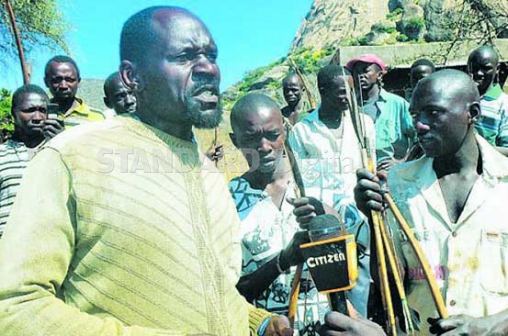 The mention of Karunyu evokes instant fear, sadness and grief to the residents of Nyanyaa village in Kitui County.
It is in this sleepy village, tucked inside Endui hills where two years ago, the dreaded Karunyu and his gang visited death and emotional wounds to the residents following unprecedented wave of bizarre killings.
But when reports trickled in that John Kilonzo Musyoka alias Karunyu had finally been arrested, two years after his gang hacked to death 12 people, Nyanyaa residents heaved a heavy sigh of relief.
"We are happy that he has been arrested. We have never enjoyed sleep since he escaped after killing our neighbours," said Mary Mutike, 67. "He said he will return like Jesus so we lived in fear not knowing his day of coming. Every time a dog barked at night, we jerked with fear," Mutike added while appealing to the government to lock Karunyu in for life.
Ms Katwii Syengo, whose brother and wife were hacked to death by the Karunyu-gang said if released, he could commit worse crimes.
Read More
"We don't want to see his face again," she said. Lena Mwendwa, wife to Karunyu's elder brother Mwendwa Musyoka said: "They can bring him back for us to be sure he is the one after which they can kill him if they so wish."
The Karunyu gang, in demonic mood, sauntered in Nyanyaa village at the dead of the night on July 3, 2013, armed with machetes, bows and arrows. Their first port of call was at Musyoki Syengo alias Mayor's homestead where they hacked the successful businessman to death. Also slashed to death was his wife and two male domestic workers.
The gang then tore through the darkness for about two kilometres to Munyoki Musyoka's homestead, Karunyu's elder brother. Here, Karunyu is said to have identified himself and his mission. The terrified family took cover under the beds.
The gang dragged out their three children — Mwende (16), Ngui (13) and Muimi (eight) — and slit their throats. They then went for Karunyu's brother and slaughtered him. His wife Peninnah miraculously escaped through the window and fled.
Thirsty for more blood, the deranged gang made a stop at the home of Nzomo Mengi, also a businessman, about a kilometre away. In their murderous rage, they slashed him and his wife, killing them on the spot. Luckily, their three children escaped, one with an arrow wound.
After terrorising the village for about three hours in pitch darkness, 12 people lay dead, with gory machete wounds, blood and brains scattered all over.
Karunyu's other elder brother Mwendwa Musyoka would later tell us that a family land dispute led to the killing of his brother and children. The others were victims of robbery, he reckoned.
Karunyu and gang then escaped towards the thick and vast Endui hills. It is believed they hid in caves for days while playing cat and mouse games with the authorities.
Meanwhile, a band of young men set out in search of the killers. For over a week, Endui location was under jungle law as the men scoured forests and ridges looking for Karunyu and his team.
Seething with anger, they raided Karunyu's homestead. They tied his aged mother and wife with ropes, tossed them into a granary full of sorghum and set it on fire. They finally cornered four of Karunyu's suspected accomplices and lynched them.
What astounded the villagers however is how Karunyu, a Class Five drop-out, escaped from police dragnet. Some claimed he used black magic. Days later, Karunyu would twice call Peninah Kalunge, his next-door neighbour, and admonish her for failing to protect his mother and wife. He warned her and others of death when he returned.
High-profile suspect
For two years, Karunyu was at large, making mockery of the security intelligence. Two weeks ago however, he was arrested at Emali, Makueni County. On January 8, he was arraigned at Makindu Law Courts but did not take plea as police sought more time to investigate. Hearing starts on March 1.
The man described by police as high-profile suspect is being held at Machakos Remand Prison.
Mwingi Central DCIO James Manuni said they were sure the man in custody is indeed Karunyu. "His file is now complete and we have forwarded it to the AG's office for advice. He will soon be taking a plea for all the crimes he committed in Nyanyaa," Manuni said.
Endui Location Chief Samuel Maithya said that some villagers sold their land and fled Nyanyaa fearing for Karunyu's return. "There was a lot of tension but now people are settled and relieved," the chief noted.