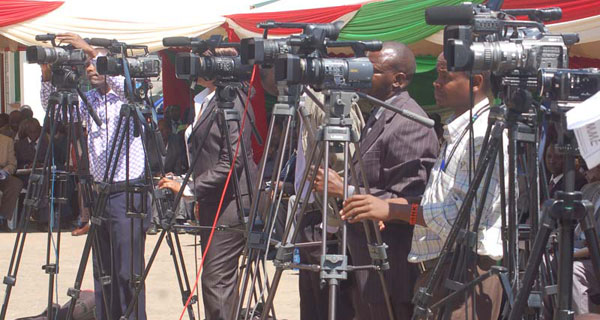 Journalists PHOTO:COURTESY
By Standard Digital Reporter
Nairobi, Kenya: Rarieda MP Nicholas Gumbo went against the grain of many colleagues on the floor the House and sensationally claimed the media in Kenya has destroyed families, businesses and lacked patriotism.
Gumbo alleged that while he stood for self regulation of professionals, the media has fallen short of patriotism and must be 'reigned in'. He was contributing to the Media Council of Kenya Bill 2013 which seeks to regulate the media in accordance with the Constitution.
He accused the media of lacking educational and ethical standards and alleged that some media stations employ just anybody as a journalist.
"We have seen media destroy families and businesses that have taken years to build and it is time we have an opportunity," said Gumbo.
Read More
"Mr Speaker, ethics and standards are still missing among journalists. We have heard some media practitioners from the gutter (alternative) press in which the journalists who offend people can be identified in accordance with the law.
"These journalists from gutter press are changing and metamorphosing themselves and it is difficult to reign them in even after injuring reputation of public figures," Gumbo said.
"We also must find a way of reigning in rogue activists who operate in the blogosphere because even media personalities have had their reputation damaged.
"The media must respect the freedoms and rights of others too," Gumbo said.
MP for Homabay County Gladys Wanga opposed the Bill and attempts by government to have a role in appointment of members of the Media Council. "The Constitution is very clear in Article 34 on the non interference from government or its agents."
"We must oppose any attempts to have the government control media."
The temporary Speaker Tom Kajwang' asked MPs to propose amendments that would strengthen the laws seeking to regulate media environment instead making wild allegations that could not be condensed into clauses.
Ugenya MP David Ochieng' said the Media Council of Kenya Bill fell short in definitions and did not describe the what media is, what and who journalists are and the requisite training they should have undergone before being registered and licensed.
"The Media Council should not have appointees who are government apologists. There is no way we can allow the Cabinet Secretary having appointment powers. That must be amended," Ochieng' said.