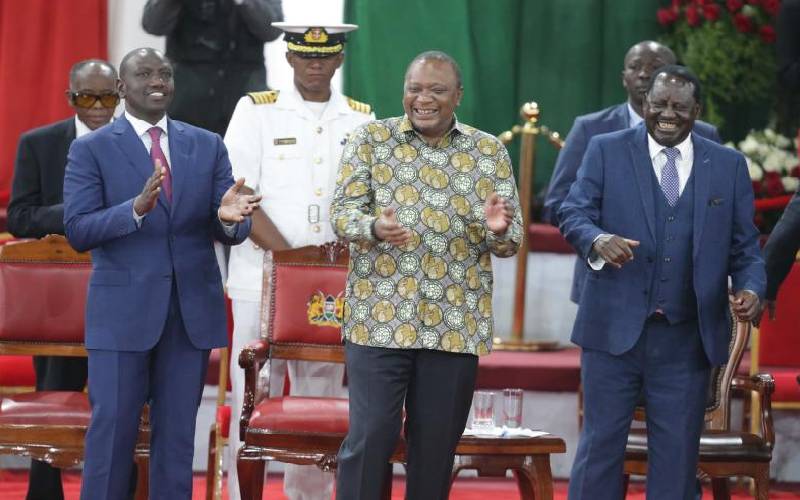 The contest to succeed President Uhuru Kenyatta has opened up the exciting possibility of a people-focused politics. Whether it is a product of high cynicism or not, the fact of the matter is that the debate over "dynasties vs hustlers" has reminded Kenyans of the obscene complacency of our economic and political elites.
The discourse over wheelbarrows has crystallised the plight of millions of Kenyans who have for decades been left to fend for themselves in low-productivity jobs while the Wenyenchi help themselves to our taxes. Now the genie is out of the box, and there is simply no turning back.
The question is no longer whether we should frame our politics as a battle between dynasties and hustlers, but rather how to make sure that this emerging narrative does not introduce even more violence to our politics. Because let us be honest: class politics can be messy.
Given our history of violence, dispossession, and high levels of inequality, an honest accounting about the sources of these ills is guaranteed to generate a lot of heat. You can already see this in the visceral reactions from those that fear the truth regarding how they acquired their wealth. Now you can imagine what would happen if we actually started asking people how they acquired their land, or other types of assets.
The good thing, however, is that Kenyans are largely not interested in a vindictive settling of scores. All they simply ask for is a fair shot at success in life – built on the back of a functional state capable of reliably providing essential public goods and services, and which is interested in broad-based economic growth and mass job creation.
Read More
That is the least our economic and political elites, many of whom have benefitted from a patently corrupt and unjust system, can do to atone for their sins and the sins of their forebearers.
I recognise that the temptation for the political elite is to keep their heads firmly in the sand, and continue playing the same old games of ethnic politics. Many on the side of the so-called dynasties are openly doing this through their not-so-subtle support for the Building Bridges Initiative (BBI) as an elite power-sharing pact.
Those opposed to BBI also continue to delude themselves that they can instrumentally deploy class politics, and then dial it back once they have achieved their political objectives. Both camps are wrong. Once unleashed, the forces of class politics will obliterate any political formation that dares to stand in their way.
We have seen this in other jurisdictions. For example, Mexico's Zapatista Uprising of 1994 was one of the catalysts for the country's wide-ranging economic and political reforms, including the introduction of a massive social protection program (Progresa). A similar (albeit peaceful) movement of the forgotten swept Brazil's Workers Party to power in 2002 and ushered in an era of popular (some may say populist) anti-poverty economic policies.
The point here is that we cannot keep playing the same old games forever. At some point demographic and economic realities will catch up with the elite class. They could preempt such moments of reckoning by rationalising our politics and economics, or they could wait to be swept aside by force.
The deep problems fueling the "Hustler Nation" are national. Yet the political class, led by President Kenyatta, continue to react in ethnic terms.
No amount of political bribery with "development" projects will satisfy Kenyans' desire to be masters of their own destiny. Instead of always trying to herd Kenyans like cattle into distinct ethnic pens, what we need is leadership that faces reality about how we got to this point in the first place.
-The writer is an professor at Georgetown University