Let a mother's tears prick all officers accused of brutality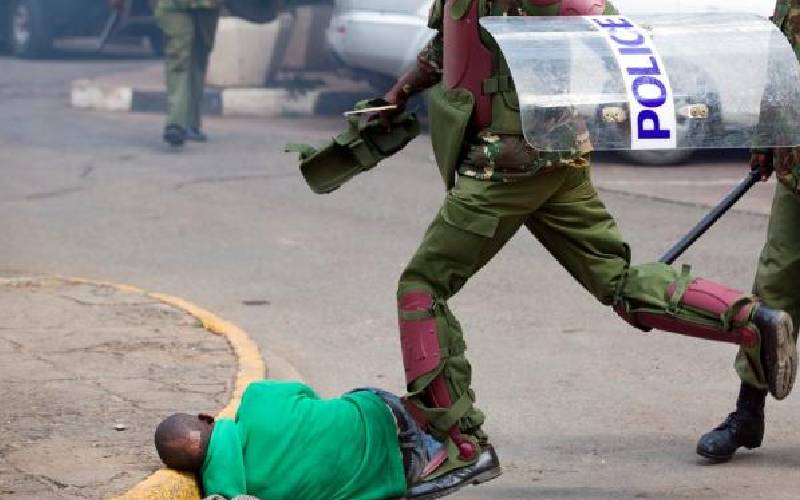 Warrants of arrests for four police constables were issued on Wednesday by a Nairobi Chief Magistrate's court. They are accused of abducting Philip Otieno Ondiro with intention to kill him.
While this is probably the first case of an enforced disappearance concluded by the Independent Policing Oversight Authority (IPOA), a gathering of several victim's mothers four days before, suggests Ondiro's case is not isolated.
Three hundred people gathered in a garden restaurant five hundred metres from State House to listen to testimonies of survivors and families of victims killed or disappeared in police custody, on October 24th.
They gathered to watch the newly created Mothers of Victims and Survivors Network publicly launch the non-fictional photographic book "They Were Us: Stories of Victims and Survivors of Police Brutality".
Curated by Wyban Kanyi, Mama Victor and Betty Press, "They Were Us" documents 18 courageous testimonies from 9 of Kenya's most famous and oldest Nairobi settlements.
Ahmed Majid (24) of Majengo was killed in a disturbance between the police and the public last year. Like many others during the Covid-19 pandemic, he died in a hail of bullets.
The same air of putrid tear gas that accompanied his shooting that day, later followed the burial cortege. Tragically, testimonies tell the stories of parents who have lost more than one of their children.
Brothers Lameck Ocholla (17) and Victor Ochieng' (18) were never charged by police officers in 2017 and 2019. No evidence was ever presented to a court.
Instead, posts to social media website associated with police officers gloated over his death.
Shoe fundi and a person with disability Leonard Otieno is one the few who lives to tell his own story. On account of polio, he didn't move quickly enough during the 2017 violence in Mathare and was shot in his leg.
It took six months for him to be discharged from hospital care and now navigates Mathare in a wheelchair.
He hopes to have the bullet removed from his foot, raise money and train jobless youth to make shoes for students in local schools.
Missing Voices have documented 119 police killings and 23 enforced disappearances between January and September 2021.
IPOA is currently handling 98 cases of police abuses against the public.
The National Police Service have challenged the data but call on complainants to make reports to the Independent Affairs Unit and IPOA.
Philip Ondiro's family also deserves our public interest. Last seen on February 1st, four armed men stormed his home, bundled him into an unmarked car and drove off.
The Director of Public Prosecutions has charged constables Francis Githonga, Carlistus Apalia, Samwel Makori and Alex Munene under Section 258 of the penal code that outlaws kidnapping or abducting for murder.
The National Police Service Act and Standing Orders are clear, police officers must identify themselves and always seek non-violent approaches first.
All arrested persons must be charged in a police station and given the option of bail.
Where the use of force results in injury or death, this has to be communicated to the commanding officers and the IPOA.
Two weeks ago, this column argued for another round of police reforms. The cost of trigger-happy police officers is simply too high for Kenyans to bear.
In one split second, armed police officers can end a human life and change forever the lives of families. Watching mothers stand up for themselves and for others in the presence of violence is the purest and most radical show of courage.
They have earned our public compassion and vigilance.
Their experiences now documented fuel the urgency for reform and some new directions the Interior Ministry and other agencies could take.