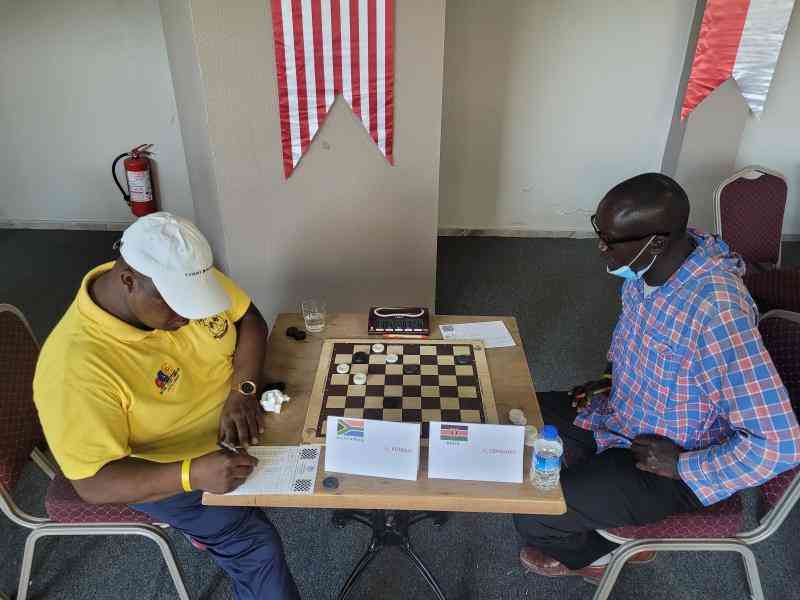 East African champion Crispin 'Goj' Odhiambo overcame strong opposition from world beaters to stay afloat at the ongoing Draughts and Checkers World Championships Qualifiers in Antalya, Turkey.
In his opening game on Tuesday, Odhiambo registered two draws against tournament favourite and five-time world champion Alexander Moiseyev of Russia (3-move variation) in a very tense encounter.
Moiseyev, who has over 50 years' experience in the discipline, also boasts of three Grandmaster titles namely; the international draughts, Russian draughts and English draughts.
In the second clash, Odhiambo pinned down reigning world champion (GAYP) and Grandmaster Lubabalo Kondlo of South Africa with a draw and a win.
In his third match, Odhiambo battled Italy's finest Sergio Scarpetta yesterday morning in a dog-fight that resulted in two draws.
"I'm honoured to have played Alex (Moiseyev), one of the biggest names in the world of Checkers," said Odhiambo.
"I grew up hearing stories about Moiseyev, today I'm happy to have played two draws with him."
In the other results, Daphton Mwaboti of Kenya beat Karny Idan of Israel by a win and a draw to keep his hopes in the championship alive.
Due to his potential, Odhiambo and other prolific Kenyan players have already received invites for the Africa Championship to be staged in Zambia in July.
It is on this note that the Kenya Draughts Association (KDA) is appealing to well-wishers and sponsors who can come on board to fund the national team for the trip that will also act as a qualifier for the Worlds.
"The Zambian tournament is big, we are appealing to the Government to support the players, we are also kindly requesting the Nairobi County Government to sponsor Goj, we believe in his potential. We believe he will be the first player to ever represent the nation in the World Championship," KDA captain cum treasurer Charles Musyoka underlined.
Related Topics