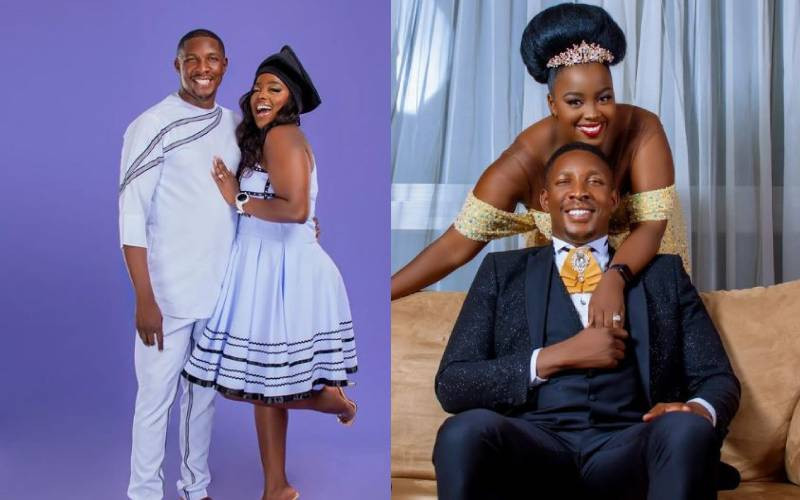 Actress Jackie Matubia has finally broken her silence to address the swirling rumors surrounding her love life and recent events with her second baby daddy and fiancé Blessing Lung'aho.
The mother-of-two took to her YouTube channel to provide clarity, leaving fans eager to hear her side of the story.
However, before addressing the relationship rumors head-on, Jackie acknowledged the speculation that has been circulating due to her engaging Instagram reels and TikTok videos.
These posts have sparked curiosity among her followers, leading to various theories and assumptions about the state of her love life.
In a heartfelt video, Jackie opened up about the challenges of being a public figure and facing constant scrutiny. "Let me tell you guys, it's tough to be Jackie Matubia," she began.
"I go through things in the public eye, and everyone has something to say about my life. But amidst it all, I'm still navigating my journey and finding my own happiness."
While Jackie acknowledged the speculation and rumors, she emphasized that the truth will be revealed in due time.
"I know there's been a lot of speculation surrounding my love life. The same way I introduced him is the same way I will inform you about what is going on," she stated, hinting at future updates.
"I want to assure you all that I appreciate your interest and support. I promise that when the time is right, I will share everything with you."
Jackie's Instagram reels and TikTok videos have fueled speculation among her dedicated followers. People have been analyzing her posts, searching for hidden meanings or clues about her relationship status. The videos have become a topic of conversation, leaving fans curious and eager for answers.
Addressing the rumors surrounding her relationship with Blessing Lung'aho, Jackie emphasized the importance of trust and transparency with her audience.
"I understand that you all want to know about my love life, and you deserve to know. Please bear with me as I navigate this journey," she expressed. "I promise to keep you informed, just like I always have. You are an important part of my life, and I value your support."
However, despite her heartfelt address, some fans were left disappointed as Jackie did not divulge specific details about the state of her relationship, leaving them longing for more information.
Despite the ongoing rumors and speculation surrounding their relationship, Jackie Matubia and Blessing Lung'aho have consistently dismissed any notion of trouble in paradise. Prior to her recent address on YouTube, Jackie had taken to her Instagram stories to respond to the allegations, vehemently denying any relationship issues.
"People want you to be unhappy soooo bad... nah, WE BLESSED OVER HERE!!!" Jackie wrote, exuding confidence in her relationship and dismissing the rumors as baseless. She attributed the gossip to bitterness and projected unhappiness, urging her followers not to buy into the negativity.
As the rumors persisted, one curious netizen speculated that Jackie's recent videos about infidelity and female empowerment were indirect messages alluding to troubles in her relationship.
Jackie wasted no time in shutting down these assumptions, responding with a touch of humor, "Passive aggressive videos??? Lol, I'm always posting... hun stop being a monitoring spirit and focus on your sight!"
This is not the first time that Jackie and Blessing have faced breakup rumors. In August 2022, Blessing Lung'aho dismissed reports of a split, assuring fans that they were still happily together.
Matubia echoed his sentiments, revealing that she had learned about the separation claims from concerned friends but affirmed that all was well in their relationship.
The couple's relationship has been a subject of public interest ever since their engagement announcement in April 2022. On Valentine's Day of that year, Jackie shared a heartwarming video introducing Lung'aho as her "baby daddy to be."
Later that same month, they officially announced their engagement, solidifying their commitment to each other. The couple welcomed their first child together in June 2022
Related Topics